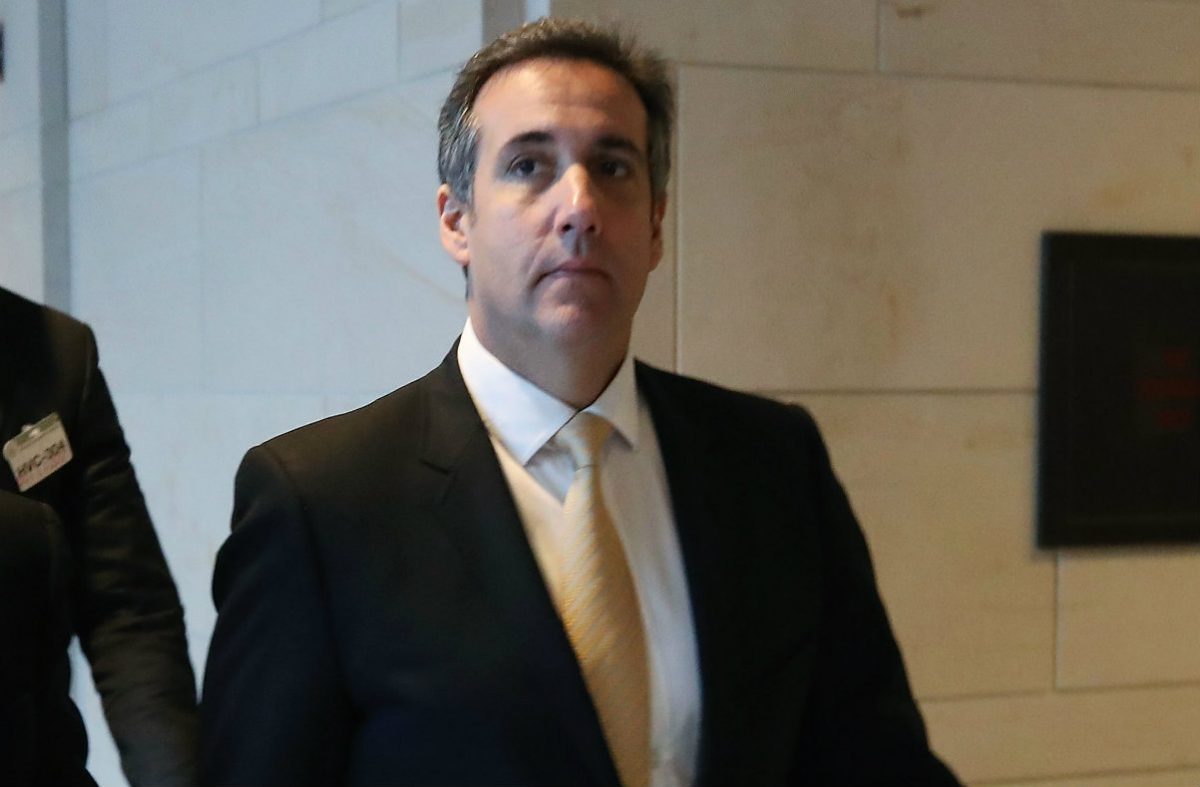 The legal battles continue for Michael Cohen. As President Donald Trump's lawyer prepares for a federal court hearing Monday afternoon regarding the FBI's recent raid of his office, home, and hotel, Stormy Daniels' lawyer Michael Avenatti submitted a court filing arguing that Cohen can't use the criminal matter to push off his case with the adult film star.
Cohen has claimed that because there is an ongoing criminal investigation into his business dealings, the civil case brought by Daniels (real name Stephanie Clifford) should be put on hold. His fear is that anything he says in the Daniels case could potentially be used against him in the criminal matter; invoking the Fifth Amendment protects him from self-incrimination.
Michael Avenatti is not convinced.
In Monday's court filing, Avenatti not only argues that Cohen's Fifth Amendment argument is not strong enough to stay the case, but also argues Cohen waived his Fifth Amendment rights by talking about the case, even after the FBI raids. Avenatti says Cohen gave up his ability to invoke the Fifth Amendment "by voluntarily testifying twice on topics he now seeks to avoid testifying about." Avenatti cites sworn declarations Cohen filed with the court, one a week before the raid on his office, and another mere hours after the raid took place.
Avenatti states that Cohen's voluntary declaration after the raid shows that his attempt to delay the Daniels case is not meant to protect his Fifth Amendment rights, "but is rather a naked attempt to now avoid being subject to cross-examination at a deposition."
Even if Cohen hasn't waived his rights, Avenatti argues that he hasn't made a sufficient argument for why this is enough to put the case on hold. First off, he claims that Cohen hasn't even provided evidence that there is a criminal investigation of him (of course, this ignores the fact that the government acknowledged as much in their own filing in that matter). On top of this, because the investigation has not yet led to an indictment, Cohen's claim is far weaker than if he was currently facing charges.
Not only that, Avenatti argues, Cohen is only one of three defendants in this case, the others being Essential Consultants LLC and President Trump, and neither one of them have invoked the Fifth Amendment (Avenatti notes that as an "artificial entity," the LLC doesn't have those rights anyway). A stay of the case would therefore be overbroad as a remedy for Cohen's concerns, as he could still face questions and even plead the Fifth on an issue by issue basis, while others answer questions.
Avenatti also argues that the interests typically weighed in evaluating the issue of granting a stay lean in Daniels' favor. For instance, he claims that because the case deals with Daniels' "ability to speak and be free from any potential liability for a violation of the Settlement Agreement" she will suffer greater harm the longer the case goes without a resolution.
Cohen's attorney has not responded to Law&Crime's request for comment.
Opposition to Ex Parte to Stay and Declaration on Scribd
[Image via Mark Wilson/Getty Images]
Have a tip we should know? [email protected]