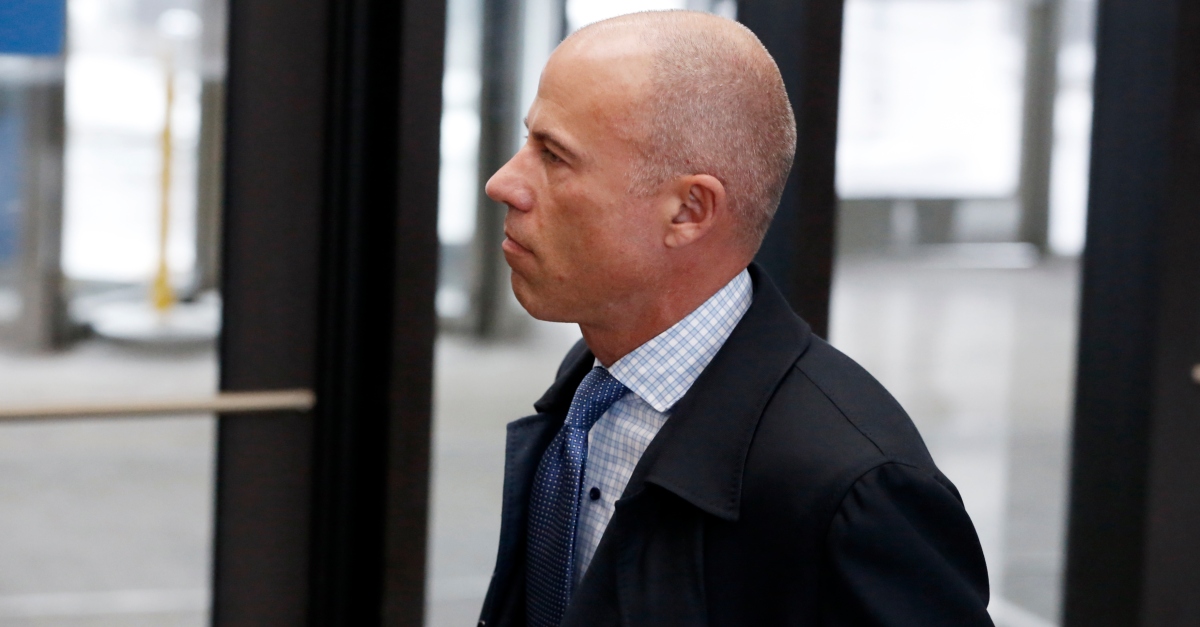 Embattled California attorney Michael Avenatti will be named in an indictment at noon EST on Thursday. At that time, the U.S. Department of Justice and the IRS will reportedly plan to announce the "filing of a 36-count indictment."
According to the Los Angeles Times, a grand jury indicted Avenatti on "36 counts of fraud, perjury, failure to pay taxes, embezzlement and other financial crimes." The attorney is accused of stealing "millions of dollars from five clients and used a tangled web of shell companies and bank accounts to cover up the theft."
RELATED: 12 Most Explosive Allegations in Massive 36-Count Indictment Against Michael Avenatti
Per the LA Times, Avenatti is being accused, in part, of hiding a multi-million dollar settlement from a client who was a "mentally ill paraplegic on disability":
One of the clients, Geoffrey Ernest Johnson, was a mentally ill paraplegic on disability who won a $4-million settlement of a suit against Los Angeles County. The money was wired to Avenatti in January 2015, but he hid it from Johnson for years, according to the indictment.

In 2017, Avenatti received $2.75 million in proceeds from another client's legal settlement, but concealed that too, the indictment says. The next day, he put $2.5 million of that money into the purchase of a private jet for Passport 420, LLC, a company he effectively owned, according to prosecutors.
The maximum possible punishment for these alleged offenses upon conviction, the report said, is 335 years in prison.
RELATED: The Avenatti Roller Coaster Has Been on the Downhill for Some Time, But Where Will it End?
Just weeks ago, Avenatti was charged in California and New York. In California, it was alleged that Avenatti committed wire fraud and bank fraud to embezzle a client's money for the purpose of paying off his own debts. Avenatti was also accused of using fraudulent tax returns to secure a bank loan. In New York, Avenatti was accused of extorting Nike.
He has denied wrongdoing, and says the truth will come out.
Avenatti responded on Twitter this morning, saying that he's made a lot of "powerful" enemies over two decades.
"For 20 years, I have represented Davids vs. Goliaths and relied on due process and our system of justice. Along the way, I have made many powerful enemies. I am entitled to a FULL presumption of innocence and am confident that justice will be done once ALL of the facts are known," he said.
He later expressed his intention to plead not guilty.
"I look forward to the entire truth being known as opposed to a one-sided version meant to sideline me," he said.
Listen  to the Guys Who Law talk about Avenatti's troubles below!
Editor's note: this story was updated after publication with additional information about the nature of the charges against Avenatti.
[Image via Nuccio DiNuzzo/Getty Images]
Have a tip we should know? [email protected]