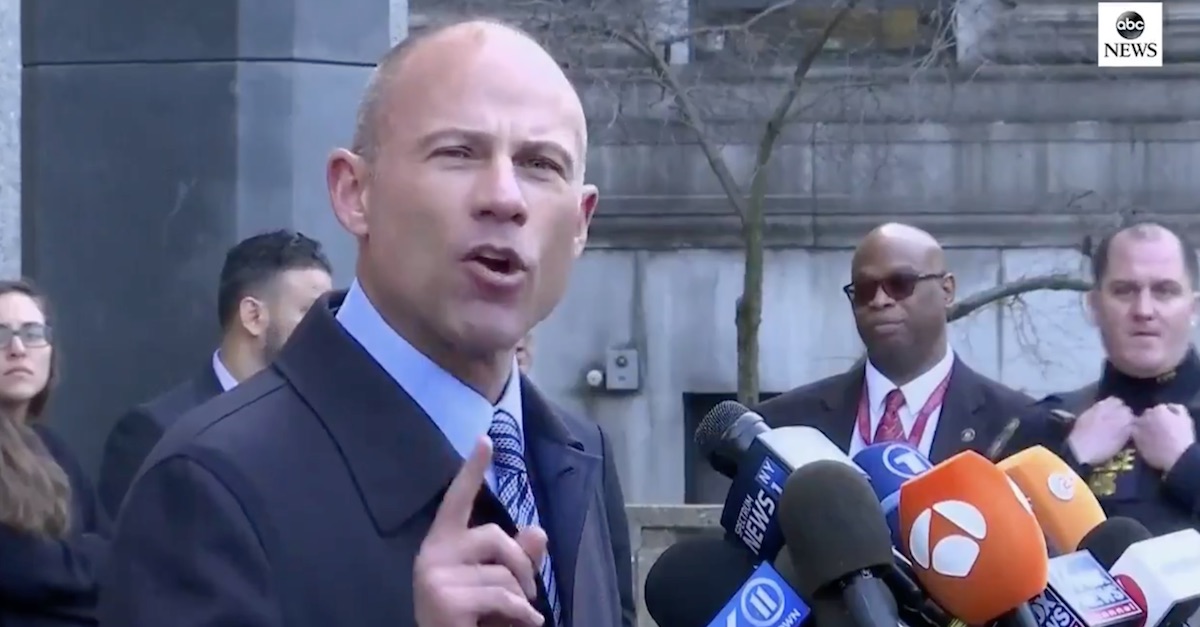 Stormy Daniels' lawyer Michael Avenatti is being sued by a former law partner over an alleged breach of contract. Jason Frank filed a complaint in Los Angeles Superior Court on Wednesday, claiming that the outspoken attorney owes him $2 million for failing to make good on a settlement agreement for a previous dispute.
Frank claims that he had an independent contractor arrangement with the firm, whereby he was to get 25% of the firm's annual profits and 20% of his client's fees, as well as copies of the firm's tax returns and other financial records. According to the lawsuit, the firm allegedly misstated their profits, didn't give Frank copies of the records, and failed to pay him money that was due to him under their contract. In February 2016, Frank filed a demand for arbitration and resigned from the firm that May.
Frank alleges that the arbitration panel found that Avenatti's firm had "acted with malice, fraud and oppression by hiding its revenue numbers," and issued sanctions against the firm for not following discovery orders. The case was set to go to an arbitration trial in March 2017, and Avenatti was scheduled for a March 3, 2017 deposition, according to the lawsuit. Frank states that two days before the deposition, someone under the name "Gerald Tobin" filed an involuntary bankruptcy petition against the firm, which the firm claimed prevented the deposition and trial from taking place at that time.
According to Frank's lawsuit, a judge then gave Avenatti until March 10, 2017 to consent to Chapter 11 bankruptcy, saying that the involuntary petition "has a stench of impropriety." Avenatti indeed consented to bankruptcy, and in December 2017, Frank and the firm reached a settlement agreement, whereby the firm would pay Frank $4.85 million the lawsuit says. According to the complaint, the agreement depended on the bankruptcy court accepting the terms and dismissing the bankruptcy case, which it did on March 15, 2018.
The agreement called for Frank to be paid $2 million within 60 days of the March 15 dismissal, which Frank claims did not happen (the settlement agreement called for the remaining $2.85 million to be paid within 120 days of the dismissal).
Frank claims that Avenatti is liable for the unpaid money because the settlement called for him to personally guarantee the payment, which he did through a separate agreement.
In a statement to Law&Crime, Avenatti said about the lawsuit, "Frivolous and baseless. Who cares?"
Frank's attorney, Eric M. George told Law&Crime:
Michael Avenatti's law firm entered into a crystal clear written settlement agreement to resolve a prior lawsuit brought by Jason Frank, his former law partner.  The settlement agreement was approved by a federal court and was a condition of his law firm exiting bankruptcy.  Under this settlement, Mr. Avenatti's law firm was required to pay Mr. Frank $4.85 million, all of which was personally guaranteed by Mr. Avenatti.

Mr. Avenatti's law firm was required to make the first $2 million payment under the settlement to Mr. Frank on Monday, May 14.  Mr. Avenatti's law firm failed to make its required payment, and Mr. Avenatti himself failed to honor his personal guarantee obligation.

That is why we filed this lawsuit.
Read the complaint below:
Frank v Avenatti Complaint on Scribd
[Image via ABC screengrab]
Have a tip we should know? [email protected]