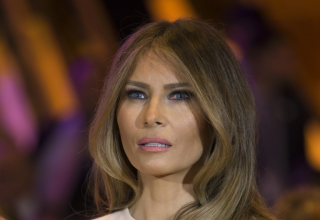 On Wednesday morning, Melania Trump tweeted images of a letter from an immigration attorney that discusses the process she went through upon immigrating to the United States. "I am pleased to enclose a letter from my immigration attorney which states that, with 100% certainty, I correctly went through the legal process when arriving in the USA," Trump wrote in the same post.
— MELANIA TRUMP (@MELANIATRUMP) September 14, 2016
Attorney Michael Wildes says in the letter that Trump did not work in the U.S. illegally in 1995, saying she was "never in the United States in 1995″ (emphasis used in the original). Wildes says that the allegation that Trump was in a photo shoot for the French magazine Max in New York in 1995 is untrue. He says that the the photo shoot took place "after she was admitted to the United States in H-1B visa status in October 1996."
This contradicts media reports that images from the photo shoot were published in the January 1996 issue of Max. Wildes told LawNewz.com, "I reviewed her passport and confirmed her first entry into the U.S. was in October 1996." LawNewz.com reached out to Alé Alexandre de Basseville, the photographer who claims he shot the photographs, where and when he took them. He responded, "I don't remember." According to a New York Post article from July of this year, he had said he took the photos in Manhattan in 1995.
Another point of confusion regarding Trump's immigration process stemmed from her claims regarding how frequently she had to go back to Europe to get her visa stamped. Wildes acknowledged that "some foreign workers are issued H-1B visas for up to three years." However, Trump came to the U.S. from Slovenia, and Wildes wrote that H-1B visas for Slovenian citizens were limited to up to one year. "Each of Mrs. Trump's five H-1B visas was issued for a one year period," the letter says.
The letter adds that Trump did not receive her green card through marriage, rather she self-sponsored herself, and was admitted as a lawful permanent resident in 2001, and became eligible for citizenship in 2006.
This article has been updated to include a comment from attorney Michael Wildes.
Have a tip we should know? [email protected]