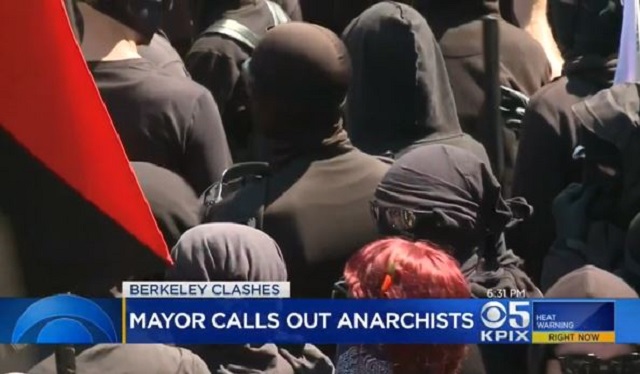 Jesse Arreguin, Mayor of Berkeley, California, wants to crack down on violent left-wing activists who have been active in his city in recent months. Commonly known as Antifa, the collection of "anti-fascists" have displayed violent hostility towards those on the other end of the political spectrum, including white supremacists and supporters of President Donald Trump. Mayor Arreguin said that Antifa should be deemed a gang by law enforcement officials.
"I think we should classify them as a gang," he said. "They come dressed in uniforms. They have weapons, almost like a militia and I think we need to think about that in terms of our law enforcement approach."
On Sunday, Antifa members in black masks climbed over police barriers and attacked Trump supporters during a demonstration in a park. News crews from local KPIX5 observed that most of those who were demonstrating were Trump supporters who came out against racists and Nazis.
Arreguin said he does not support those on the far right, but said, "I think we are going to have to think 'big picture' about what is the strategy for how we are going to deal with these violent elements on the left as well."
The area has seen its share of Antifa violence this year. The UC Berkeley was the site of riots in response to a planned event featuring right-wing rabble-rouser Milo Yiannopolos in February. Yiannopoulos was scheduled to appear on campus in September  as part of its Free Speech Week, but Arreguin hopes the event is canceled in the interest of safety.
"And if they don't do that," Arreguin said, "then they need to work with the city and potentially assist the city through resources to be able to adequately police what we know is going to be a large protest that will spill out onto the city streets."
[Image via CBS SF screengrab]
Have a tip we should know? [email protected]