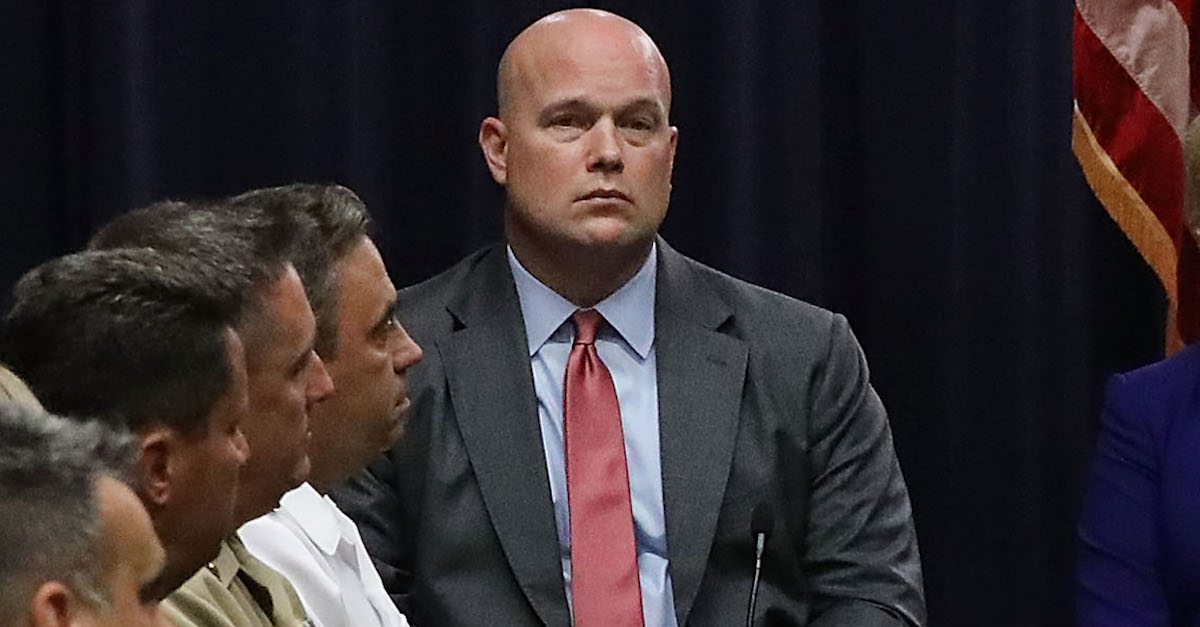 Acting Attorney General Matthew Whitaker's financial disclosure statements were released on Tuesday, and certain political contributions he received that were revealed have raised concerns for possibly violating federal law.
According to The New York Times, Whitaker's unsuccessful 2014 Senate campaign received four donations early this year. The money, totaling $8,800, came in after he was already working for the Department of Justice, which means they could be in violation of the Hatch Act, a law that restricts political activity by federal employees.
The Office of Special Counsel (not to be confused with Special Counsel Robert Mueller's office, which is totally separate), handles Hatch Act violations, and guidelines on its website instruct workers, "Do not solicit or receive political contributions at any time." The Office of Special Counsel told the Times that they could not comment on whether there was any open inquiry into this, nor could they say anything about potential allegations.
The four donations came within days of each other in January and February, years after any others came in. One was from casino owner Gary Kirke, another from Kirke's business partner Michael J. Richards. A third was from Cameron Sutton, who was once on the board of the Heritage Foundation, a conservative think tank. The last was from Leon Shearer. Neither Sutton nor Shearer responded when the Times reached out to them about this. A woman at Kirke's company, which had previously hired Whitaker as a lobbyist, said, "He's not going to comment on anything."
It's unclear why these four donations (three for $2,600 and one for $1,000) came in years after the campaign ended, but campaign treasurer William R. Gustoff said Whitaker had nothing to do with the contributions.
"The donations were not solicited by me or by Matt," Gustoff told the Times. "The checks came in. I, as the treasurer, deposited the checks, and I retired the debt that I knew I could without talking to Matt," he added. The Hatch Act allows the raising of money to retire campaign debt and Whitaker laid out $50,000 of his own money as a loan to his campaign, most of which has not been repaid yet.
Nevertheless, the Times reported, there are currently no reported campaign expenditures for 2018 that relate to repaying this debt. The only reported expenditures are $228 to reimburse for data services and $500 to Whitaker's old law firm, which rented out space.
[Image via Chip Somodevilla/Getty Images]
Have a tip we should know? [email protected]