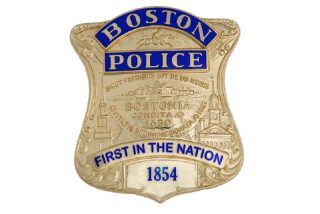 A black man was stopped when a police officer saw him near the scene of a reported breaking and entering. During the stop, the officer found a gun. Jimmy Warren was then convicted of gun possession, even though there was no evidence he was connected to crime that was initially reported. On Tuesday, the Massachusetts Supreme Court vacated the conviction, presenting a strong social commentary in the process, even saying that a black man may be justified in running from police.
According to court documents, Warren was stopped after a police officer radioed the descriptions of three suspects in a break-in, who were all black males, one wearing a red hoodie, one wearing a black hoodie, and the third just said to be in "dark clothing." When another officer, Christopher Carr, saw Warren and another black man walking near a park about a mile away, with one of them wearing a dark hoodie, he approached them for investigatory questioning.
Warren ran.
Officer Carr claimed he saw Warren clutch his pants while he ran, leading Carr to believe Warren had a gun. Carr chased Warren and caught him in the backyard of a house, and found a gun in the front yard. Warren said he didn't have a license to carry the weapon, was arrested on a gun charge. He was eventually convicted, and an appeals court held that Officer Carr had reasonable suspicion to stop Warren in connection with the break-in because he matched the description, was nearby, and he ran away.
The state Supreme Court felt differently. Their decision notes that the physical description of the suspects was too general for officers to reasonably suspect Warren, because it only referred to clothing and skin color, and no other physical characteristics. "With only this vague description, it was simply not possible for the police reasonably and rationally to target the defendant or any other black male wearing dark clothing as a suspect in the crime," the court said. The court also was not convinced that that the time and location of where the police found Warren was sufficient to stop him for the break-in.
While acknowledging that at times, fleeing from police can be deemed suspicious, the court said that without other viable factors, it just wasn't enough. Especially, they said, due to the Boston Police Department's notorious use of racial profiling. Citing statistics, the decision said that because black men were "disproportionately and repeatedly targeted," it would be reasonable for a black man to not allow himself to be subject to such unfair treatment.
"Such an individual, when approached by the police, might just as easily be motivated by the desire to avoid the recurring indignity of being racially profiled as by the desire to hide criminal activity," the court said.
The lower court's decision was overturned, and the case was remanded back to Boston Municipal Court.
[Image via Boston Police Department]
Have a tip we should know? [email protected]