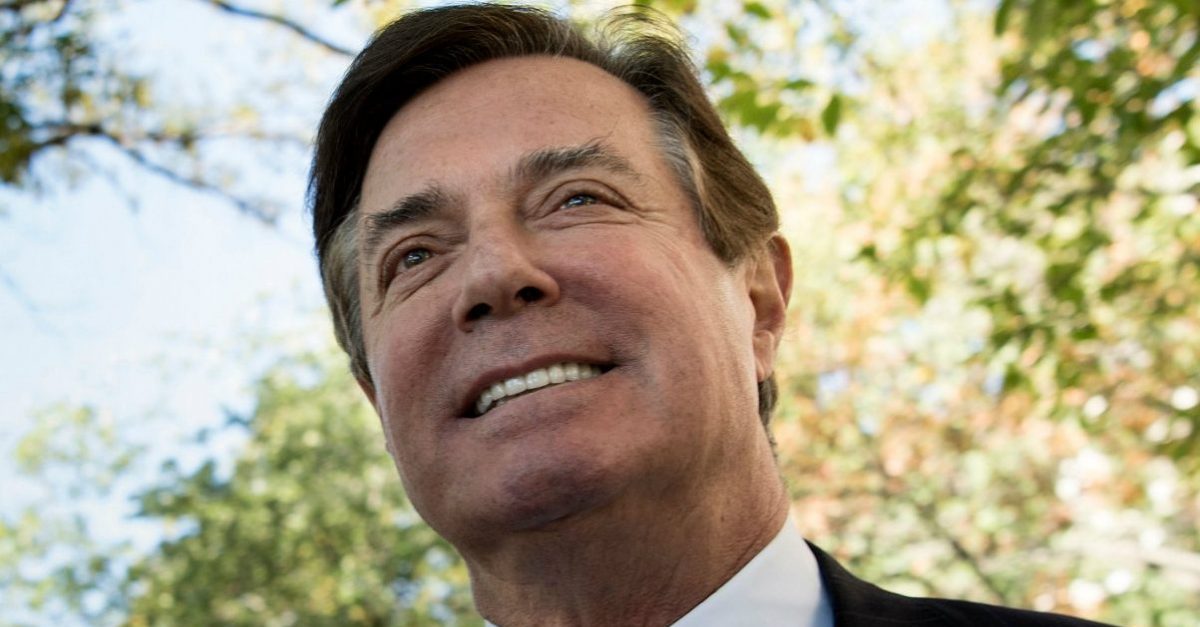 Eastern District of Virginia (EDVA) Judge T.S. Ellis III is whatever you want him to be until he isn't.
Nowhere was this phenomenon on clearer display than when Ellis went from being the last line of defense preventing Special Counsel Robert Mueller from leading an unconstitutional fishing expedition (much to the delight of President Donald Trump) to just another tormentor of former Trump campaign chairman Paul Manafort.
But who is Judge Ellis, really? To be sure, Ellis has been at the center of some serious drama in Virginia and now he'll be calling the shots once the trial is underway. Manafort's lawyers better bring their A-games, because if they try to get too cute in court, they can expect a verbal barrage the likes of which has become Ellis' calling card.
After a brief look at the judge's history, it's no surprise that Eliis doesn't suffer fools. Thomas Selby Eliis was born in Bogota, Columbia and emigrated to the United States in the '60s. He served in the U.S. Navy, and got degrees from Princeton University and Harvard Law School. Then he got one at Oxford University in 1970. From there, Ellis practiced law in Richmond, Virginia, taught at William and Mary, and eventually was nominated to the position he still holds. In 1987, more than 30 years ago, President Ronald Reagan appointed Ellis to the EDVA court. It only took a couple of weeks for the U.S. Senate to confirm him.
Ellis has enjoyed quite the career, but you may not have been aware of him or his unique background until May 2018.
The 78-year-old judge burst onto the scene when he expressed skepticism about Robert Mueller's intentions and authority in pursuing tax and bank fraud charges against Manafort when, in fact, Mueller's probe was meant to focus on Russian interference in the 2016 election.
"I don't see what relation this indictment has with what the special counsel is authorized to investigate," Ellis thundered from the bench. "You don't really care about Mr. Manafort's bank fraud [ . . . ] What you really care about is what information Mr. Manafort could give you that would reflect on Mr. Trump or lead to his prosecution or impeachment."
He also said Mueller should not have unlimited authority in the Russia probe, seemingly echoing Manafort's own arguments.
"What we don't want in this country, we don't want anyone with unfettered power," he said. "It's unlikely you're going to persuade me the special counsel has unlimited powers to do anything he or she wants."
Ellis' pushback against Mueller and his prosecutors, as reasonable as it was, was seized upon by right-wing media and President Donald Trump himself as proof that the Mueller probe is a witch hunt.
Hours after Ellis said the words quoted above, the president flew to the NRA convention in Dallas, Texas, held up pieces of paper, and read Ellis' criticism of Mueller to the crowd.
"Now, Paul Manafort's a nice guy. He worked for me for a very short period of time. Literally for like, what, a couple of months? Little period of time," Trump said. "Then what happens? [Manafort] worked for Ronald Reagan, he worked for Bob Dole, they worked I think as a firm for John McCain, they worked for others. Does anybody say that? No."
"But he's out there fighting on fake news CNN — I think NBC may be more distorted and worse but — no, but on CNN they have a headline 'Judge in Manafort Case Says Mueller's Aim Is to Hurt Trump.'"
"I just said give me that article, I want to read it. Just happened a few minutes before I walked on stage. A federal judge questioned Special Counsel Robert Mueller's authority to bring tax and bank fraud charges unrelated — unrelated, nobody knows that — unrelated to the 2016 election against former Trump campaign chairman Paul Manafort."
Then Trump said, as he does, that Judge Ellis "is really something special, I hear from many standpoints." This was last time Trump would be tempted to say such a thing about Ellis.
Since then, Manafort has lost motion after motion ahead of his July 31 trial. Most of that simply has to do with Ellis' eventual determination that Mueller is acting within the scope of his investigation in pursuing charges against Manafort. This happened after Ellis read the unredacted memo from U.S. Deputy Attorney General Rod Rosenstein appointing Mueller to his position.
Ever since that moment, things have snowballed even more for Manafort. Earlier in July, Judge Ellis took it upon himself to remedy something Manafort's defense attorneys had complained about. They said that the 100-mile distance between them and their client was having a "severe impact" on their ability to prepare for trial, unlike when Manafort was under house arrest in Alexandria, Va.
The judge responded by ordering Manafort to be moved from the Northern Neck Regional Jail (with VIP conditions) to the high-security jail that is the Alexandria Detention Center.
It seemed to the judge that Manafort's team would be pleased with this development, but they were not. They replied with this:
In light of Mr. Manafort's continuing detention and after further reflection, issues of distance and inconvenience must yield to concerns about his safety and, more importantly, the challenges he will face in adjusting to a new place of confinement and the changing circumstances two weeks before trial. With these considerations in mind, Mr. Manafort respectfully asks the court to permit him to remain in his current place of detention.
Ellis' response? A zinger, saying that the security concerns were not based in fact.
He said they did not identify "any general or specific threat to defendant's safety" and that the "professionals at Alexandria Detention Center are very familiar with housing high-profile defendants, including foreign and domestic terrorists, spies and traitors."
Ellis blasted Manafort's team in the following footnote:
It is surprising and confusing when counsel identifies a problem and then opposes the most logical solution to that problem. The dissonance between defendant's motion to continue and motion opposing transfer to Alexandria Detention Center cannot be easily explained or resolved.
Ellis' wit and frustration were on full display. If Manafort's lawyers aren't careful, they could see more of this.
Despite his lawyers' protestations, Manafort was ordered to be jailed at the Alexandria Detention Center until trial; a bid to move the trial to the more Republican-friendly area of Roanoke, was also shut down by the judge. 
This brings us — almost — to the present day in Manafort's Virginia trial. We would be remiss if we didn't add in a nice bookend. On July 30, the eve of Manafort's trial, he and his attorneys noticeably dropped an appeal they filed in D.C. What was that appeal, you ask? Manafort was appealing the dismissal of his lawsuit challenging Robert Mueller's authority. He has voluntarily withdrawn that.
While Manafort's Virginia trial begins the jury selection process, a separate Washington, D.C. trial is scheduled to begin in September.
Editor's note: the photo has been updated after publication, as it was not Ellis.
[Image via Brendan Smialowski  and AFP and Getty Images]
Have a tip we should know? [email protected]