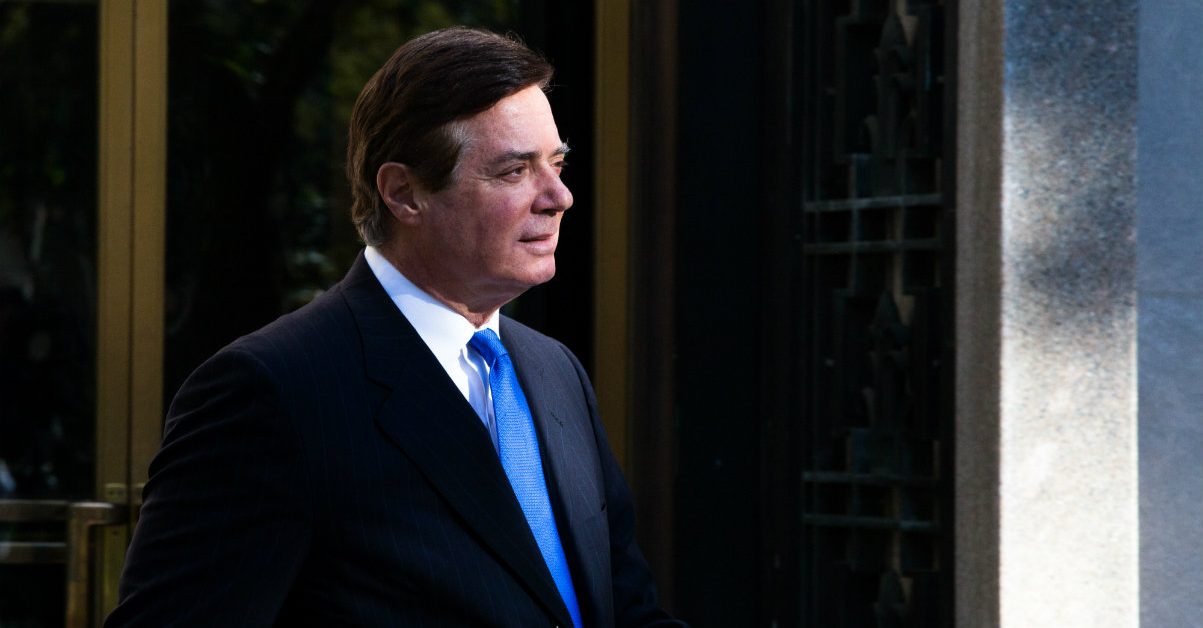 Another series of fraudulent documents took center stage at Paul Manafort's trial on bank fraud and tax evasion during day three of the proceedings in the Eastern District of Virginia (EDVA).
First, jurors heard from Joel Maxwell, the chief officer of Florida-based Big Picture Solutions, a home-lighting, networking and audio-visual company which has performed various upgrades to Manafort's real estate properties and homes throughout the United States.
When asked as to what sort of services in particular he provided for Manafort, Maxwell said it was "normal stuff" like installing internet hardware, wifi and Apple TV.
Invoices were later supplied which showed that Big Picture Solutions had also performed non-normal services like battery installation, back-up labor and network distribution–not the sort of audio/visual amenities or necessities most Americans are familiar with. In sum, over one four-year period, Manafort spent $2.2 million on technology upgrades for his myriad living and investment properties–one of which includes a horse farm in Virginia.
After showing that multiple Manafort-owned-and-controlled foreign business entities had provided payments to Big Picture Solutions for the extensive and lavish services provided the Manafort family, prosecutors quickly moved on to an apparently forged invoice.
This invoice had four distinct defects: (1) it incorrectly identified Big Picture solutions as a Limited Liability Company (LLC); (2) contained the wrong address for Maxwell's business (which is actually owned by his wife); (3) listed services "not as detailed like [Big Picture Solutions'] would be," and (4) identified as a "client" Global Endeavor–one of Manafort's foreign entities–but Maxwell noted that Big Picture Solutions "had no client by that name."
On cross-examination, defense attorney Jay Nanavati elicited testimony that Manafort was sometimes late to pay his bills and that this was "frustrating." Maxwell also noted that he sometimes dealt with Rick Gates regarding payment issues.
Next up was landscape artist and proprietor Michael Regolizio, who provided a litany of exterior home improvements for Manafort's 1.5 acre estate in the Hamptons by way of the New Leaf Landscape Maintenance company.
Despite yesterday's "pergola" flap and Judge T.S. Ellis III's repeat warnings to the prosecution not to focus on the particulars of Manafort's lavish lifestyle, Regolizio offered quite a bit of detail. According to his testimony, the Manafort's Bridgehampton estate was surrounded by tall hedges, had its own tennis court, thousands of potted and bedded flowers and plants, ponds and plants which were "fertilized weekly" and "red flowers shaped like an 'M.'."
Regolizio noted that he never any monetary dealings–or any dealings whatsoever–with Gates and that Manafort was the sole source of authority over all payment issues. Then came the fake invoice for New Leaf.
This invoices's defects included: (1) lack of the company's full name; (2) no logo; and (3) no address line at all. Regolizio, who otherwise appeared to be enjoying his time on the stand, said he had no idea about the invoice and that nothing to do with it was ever sent to New Leaf. On cross examination, the term "fake invoice" was supplied by Nanavati and Regolizio endorsed the term.
Finally, insofar as fakes and forgeries are concerned, was accounting-trained bookkeeper Heather Washkuhn. The first half of Washkuhn's testimony largely dealt how Manafort had apparently hidden the existence of his dozen-plus foreign businesses from Washkuhn and her employer, the forensic accounting firm Nigro Karlin Segal & Feldstein, LLP. (For more on this see Law&Crime's coverage here.)
After lunch, Washkuhn re-took the stand and a rapt courtroom listened as prosecutors entered several apparently forged financial statements into evidence.
These forged statements appeared to be attempts at mimicking the same or similar forms produced by Nigro Karlin–where Washkuhn serves as managing director. Throughout her testimony, Washkuhn repeatedly noted several of the same deficiencies with each forged statement–at least until Judge Ellis thought the point was being belabored.
Notably, each would-be statement was plagued by more or less the same problems: (1) the wrong fonts; (2) the wrong spacing; (3) the wrong formatting; (4) missing disclaimers; and perhaps most importantly (5) numbers that were way off–as in extremely separated and then divorced from reality. On one such occasion, a net loss in the hundreds of thousands for Manafort's firm somehow became represented as a multi-million dollar year in the black.
Another document seemingly made an attempt to correct the absence of the Nigro Karlin disclaimer. This attempt was offset by the misspelling of the words "September" and "revenue." And there was no mention of net income. Other such documents were introduced into evidence but as mentioned, Judge Ellis did his level best to short-circuit discussion; ultimately, the focus shifted away from the obvious errors and toward the numbers–which Washkuhn repeatedly noted were not correct "to [her] knowledge."
Those various and likely false documents were "not Nigro-produced," according to the stone-faced and steely-eyed Washkuhn. But many such documents made their way to banks regardless–as requested documentation for mortgage loans. How did they get there?
They were sent as attachments in emails apparently authored and sent by both Rick Gates and Paul Manafort.
[image via Keith Lane and Getty Images]
Have a tip we should know? [email protected]