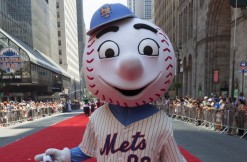 It doesn't compare to Mrs. Met cheating on Mr. Met (kind of a true story), but this development is still a pretty big deal. A man pleaded guilty in a Brooklyn federal court Thursday to forging the signature of Jeff Wilpon, the New York Mets' chief operating officer.
Michael Conway admitted to setting up a $3.5 million plot to suck money from investors of his company, which included the baseball team.
"I made a number of false statements in order to induce them to send me money," said Conway at court.
It worked for a while, to some nice effect. There was his corporate suit at Citi Field, and the stadium also advertised him company, Choice Office Solutions. Too bad he misspelled Wilpon's name as "Jeffery" while pretending to be the COO in a forged letter written on Mets letterhead, according to court records.
Conway is scheduled for a sentencing hearing on August 18. He faces up to 20 years in prison, and has already agreed to pay millions to the government and wronged lenders.
[h/t New York Daily News]
[image of Mr. Met via Shutterstock]
–
Follow Alberto Luperon on Twitter (@Alberto Luperon)
Have a tip we should know? [email protected]