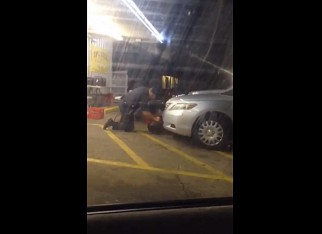 The 37-year-old African-American man allegedly shot by police in Baton Rouge on Tuesday has a lengthy criminal history, including recently serving time for illegally carrying a weapon.
Alton Sterling, 37, was reportedly shot and killed early Tuesday morning outside a convenience store after a struggle with police officers.  Graphic video that appears to show the incident quickly spread around social media on Tuesday and led to protests that are beginning to attract mainstream media coverage on Wednesday.  Sterling's aunt appeared on CNN Wednesday morning and claimed her nephew would not have carried a gun because he had prior convictions that prevented him from carrying a weapon.  However, she did not elaborate further on his prior convictions.
The Baton Rouge based newspaper The Advocate reviewed court records and reports Sterling had a lengthy criminal record dating back to 1996.  It appears as though he also may have had a pending charge at the time of the altercation.
According to the report, court records show an arrest warrant was issued for Sterling in August 2015 after he allegedly failed to register his proper address with his probation officer.  Sterling was required to register as a sex offender as a condition of his September 2000 conviction of carnal knowledge of a juvenile.  In April 2016, the Baton Rogue District Attorney's Office charged Sterling with failure to register as a sex offender.
Court records reportedly show that in 2009 Sterling was sentenced to five-years for possession of marijuana with intent to distribute and illegally possessing a weapon with a controlled dangerous substance.  Between 1996 and 2009, court records also show Sterling pleaded guilty to several crimes, including simple criminal damage to property and unauthorized entry, battery — domestic abuse and aggravated battery.
The Baton Rouge Police Department is expected to hold a press conference at 11:00 AM CDT on Wednesday to discuss additional details about the shooting.
Have a tip we should know? [email protected]