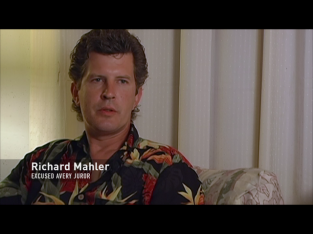 Two unnamed jurors from the Steven Avery trial are now speaking out, and what these jurors say calls into question a story being told by dismissed juror Richard Mahler.
Mahler has given many interviews recently in which he repeats the claim he made in the documentary that a preliminary vote taken by jurors at the start of deliberations was 7-not guilty; 2-undecided; 3-guilty. His story is generally portrayed in a way that makes him appear as another lost, last best hope for Steven Avery. As a result, he has become sort of a mini-celebrity in the aftermath of the release of Making a Murderer.
Now there is reason to believe Mahler's story might not be accurate, according to a new report in InTouch.
In the recent interview, the magazine separately asked two unnamed jurors about Mahler's claims; one flatly denied that such a vote took place and the other remembered an informal vote, but stated only three voted not guilty.
This marks the first time that other jurors have either denied, or at least contradicted Mahler's story about the preliminary vote. However, like almost everything else with this case, this revelation will only really add confusion and fuel to the fire surrounding the debate about this matter.
[h/t InTouch;image via screengrab]
Have a tip we should know? [email protected]