On Sunday, actress Annabella Sciorra voiced disgust after the arrest of Harvey Weinstein.
The law finally caught up with Harvey Weinstein on Friday and charged him with multiple counts of rape and sexual assault. But nothing about that felt celebratory to me.

— Annabella Sciorra (@AnnabellSciorra) May 27, 2018
Sciorra is one of the dozens of women who accused the disgraced movie mogul of sexual assault. She told The New Yorker last October that in the early '90s, Weinstein violently raped her after he arrived uninvited to her apartment. Since then, she'd taken to sleeping with a baseball bat next to her bed, she said.
Weinstein is being charged in New York for incidents involving former actress Lucia Evans and a second, unidentified woman. Police in Los Angeles and England are running their own investigations.
The mogul's attorney Benajmin Brafman denied the allegations in court.
"Mr. Weinstein did not invent the casting couch in Hollywood," he told reporters, according to NBC News.
Weinstein was all smiles as he was led out in handcuffs outside the NYPD's First Precinct.
The smirk on his face as he was led out of the police station in cuffs made me physically sick. The public statement from his lawyer was intended only to denigrate all the brave women who came forward and spoke out against him.

— Annabella Sciorra (@AnnabellSciorra) May 27, 2018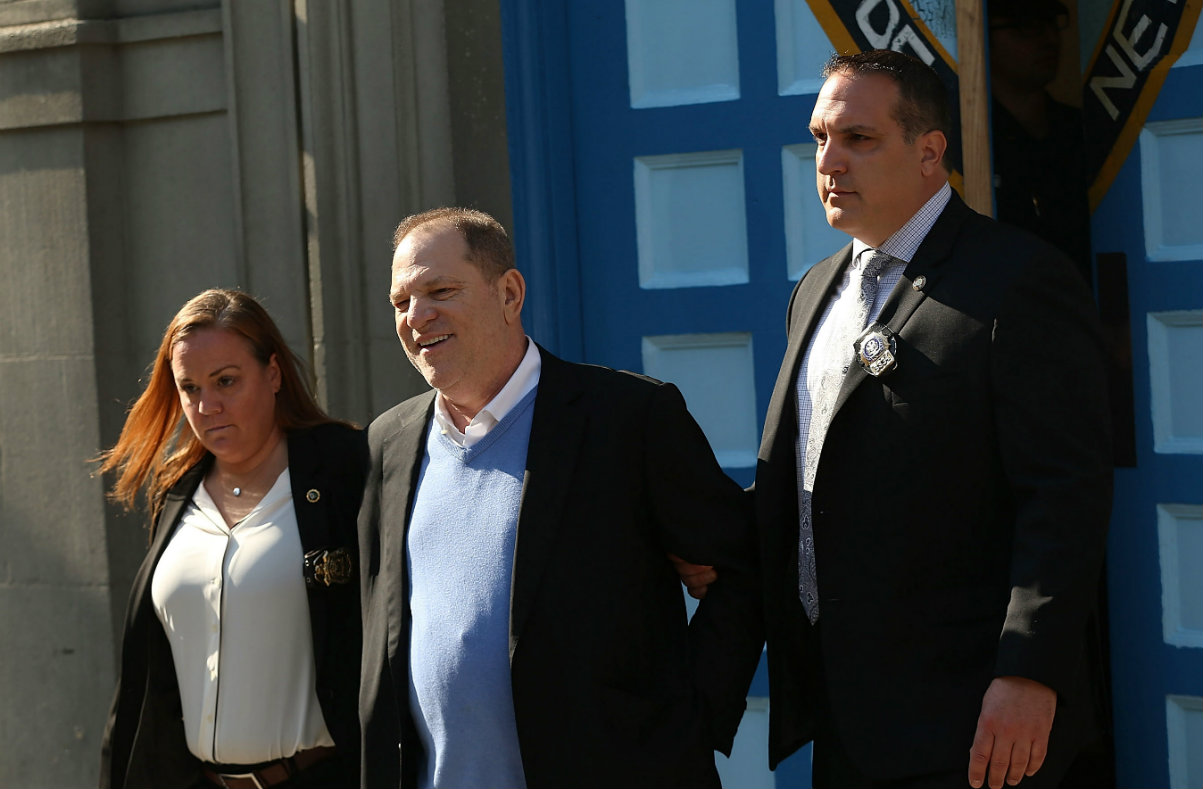 "And I got no relief from seeing this monster walk into court, then sneak out the back door after posting a million dollar bond," Sciorra wrote. "All that says is, money buys VIP treatment in the justice system no matter how serious or violent the crimes."
She cited the case of New York man Kalief Browder. He was arrested in 2010 for robbery. Then 16, he asserted his innocence, but spent three years in Rikers Jail waiting for trial. Prosecutors dropped his case due to lack of evidence. The damage was done. Browder told The New Yorker that he'd been abused by guards and inmates, and the outlet obtained footage showing him getting beaten. He ended up dying by suicide in 2015.
"If there was truly 'equal justice under the law', Harvey Weinstein would be behind bars in Rikers today, waiting for his own day in court, not free to roam New York, his other hunting ground, wearing an ankle bracelet," Sciorra wrote.
[Image via Spencer Platt/Getty Images]
Have a tip we should know? [email protected]