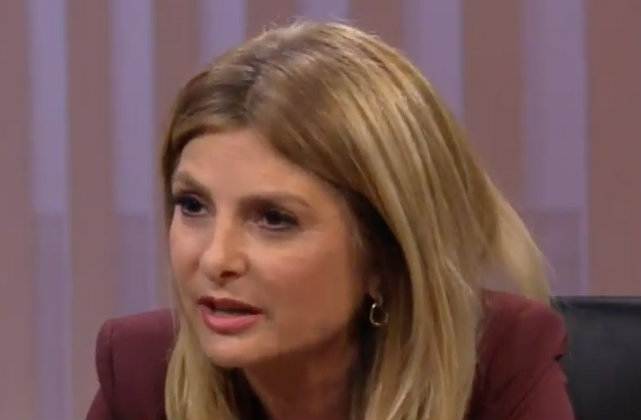 High-powered attorney Lisa Bloom says representing movie mogul Harvey Weinstein was a "colossal mistake," she told BuzzFeed in a Saturday report. The interview mentioned one blowback: She said "there is definitely a rift with my mother now."
It's pretty clear Bloom modeled her legal career after that of her mom Gloria Allred. Both are known for representing alleged victims of sexual assault and harassment. Both like to scrap with powerful defendants amid intense media scrutiny.
But then Bloom chose to represent Weinstein, as an Oct. 5 New York Times report claimed the mogul settled with at least eight different women in sexual harassment claims. One woman who settled, actress Rose McGowan, had since said she was outright raped.
Allred made clear that she wouldn't have been involved in a thing like this, at least on the defendent's side.
"Had I been asked by Mr. Weinstein to represent him, I would have declined, because I do not represent individuals accused of sex harassment," she said. "I only represent those who allege that they are victims of sexual harassment," (Indeed, she is now working for one of the mogul's many alleged victims.)
At the time, Bloom, who described herself as Weinstein's "advisor" denied the allegations against her client. Explaining her position in an Oct. 6 interview with the LawNewz Network, Bloom insisted she was representing the mogul in an attempt to start a dialogue with men accused of harassment. This working relationship didn't invite the best optics, however: Weinstein previously obtained the rights to one of her books for a docuseries.
Since then, Bloom resigned, and numerous other allegations popped up against the mogul, as more women shared horror stories in which they claimed Weinstein harassed them or worse.
"I can see that my just being associated with this was a mistake," Bloom told BuzzFeed in the Saturday report. "All I can say is, from my perspective, I thought, 'Here is my chance to get to the root of the problem from the inside. I am usually on the outside throwing stones. Here is my chance to be in the inside and to get a guy to handle this thing in a different way.' I thought that would be a positive thing, but clearly it did not go over at all."
She once again denied reports that she wanted to smear Weinstein's alleged victims, or squash negative media articles. Here's how she addressed the claim she tried to stop the Times and New Yorker from running pieces: "I don't threaten people. Let's just keep in mind that Harvey has a large team. I can speak for what I did, but I can't speak for what other people might have done."
As for Allred, she has since tried to make clear that she had nothing against her daughter.
"I do not and did not criticize my daughter for representing Harvey Weinstein," she wrote in a Oct. 6 Facebook post, saying that her previous comment was misinterpreted. Allred publicly stood up for her daughter again in another post on Friday.
"I would like to say that my daughter Lisa Bloom is and and always has been a champion for women's rights," she said, later adding that nothing has happened that would change her mind about this.
[Screengrab via LawNewz Network]
Have a tip we should know? [email protected]