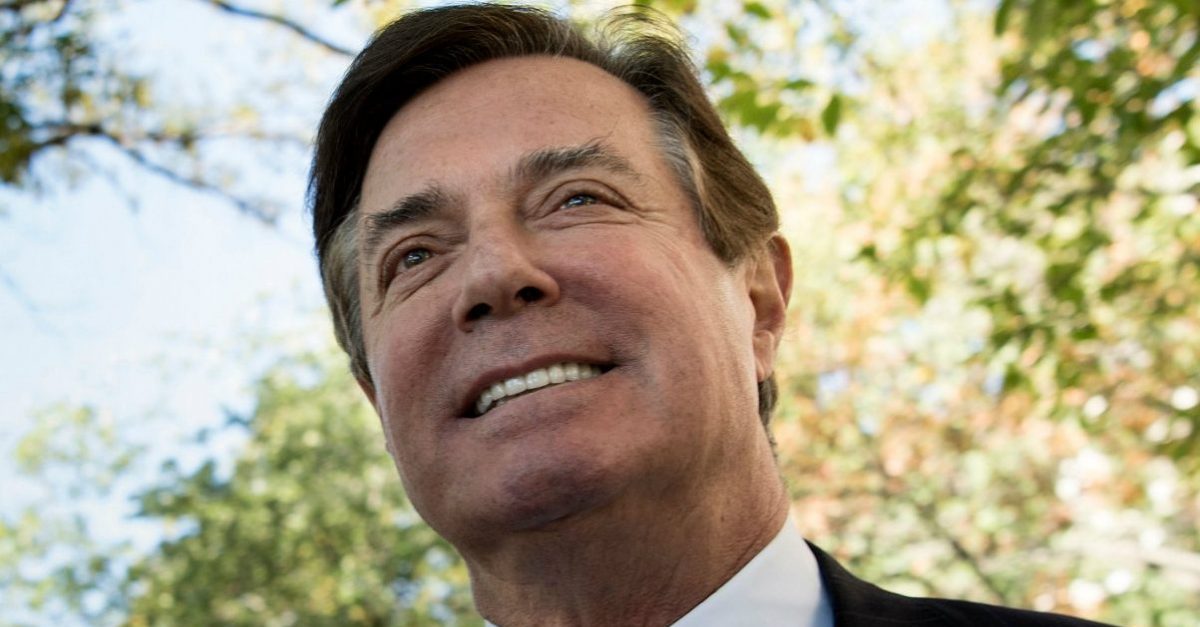 In an effort to further delay his upcoming federal trial in Virginia, Paul Manafort argued that his living conditions in jail prevent him from adequately preparing with his legal team. According to a new court filing from Special Counsel Robert Mueller's office, however, this couldn't be further from the truth, and recorded phone calls apparently show Manafort himself claim he's doing just fine.
"It is incorrect that Manafort has 'very limited access to his attorneys and the records," prosecutor Andrew Weissmann argued, pointing out that Manafort said on the phone, "I've gone through all the discovery now."
Not only has Manafort done a good amount of prep already, he also has ample opportunity for additional work. According to the filing:
Between the hours of 8:30am to 10:00pm, Manafort has access to a separate workroom at the jail to meet with his attorneys and legal team. Visitor logs from the prison indicate that each week Manafort has had multiple visits with his legal team.
On top of that, Weissmann noted, Manafort has his own room (larger than others), his own phone line, and his own laptop, with an extension cord that lets him work from his bedroom instead of his private work space. Phone logs show that he has made more than 300 calls, including more than 100 to his lawyers. While calls are limited to 15 minutes each, there's no limit on how many calls he can make. Calls with lawyers are not monitored.
Besides those perks, Manafort also has his own bathroom and shower, and he doesn't have to wear a prison uniform.
"On the monitored prison phone calls," Weissman wrote, "Manafort has mentioned that he is being treated like a 'VIP.'"
Manafort's motion seeks to move the Virginia trial–which is for charges of bank and tax fraud related to money he made working in Ukraine–until after his D.C. federal money laundering trial set for September. Mueller's office pointed out that the supposed reasons for the delay–including the aforementioned lack of prep time and wanting "passions to cool" so jurors could be impartial–would seem to apply to both cases, yet Manafort has not asked to delay the D.C. case, which is also focuses on his Ukraine work.
Mueller Opposition by Law&Crime on Scribd
[Image via BRENDAN SMIALOWSKI/AFP/Getty Images]
Have a tip we should know? [email protected]