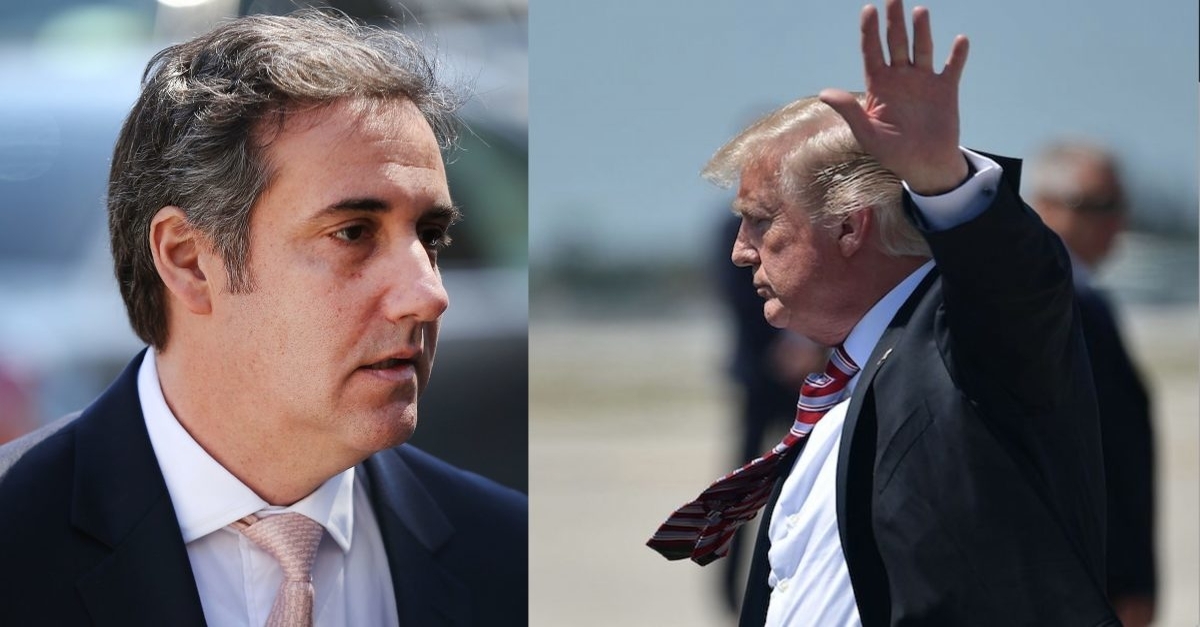 Federal prosecutors aren't quite done with Michael Cohen. On Wednesday it was revealed the U.S. Attorney's Office for the Southern District of New York (SDNY) requested all of Cohen's communications with a lawyer who reportedly sought a presidential pardon on Cohen's behalf sometime last year.
Attorney Robert Costello said SDNY investigators last week asked for his communications with Cohen, according to the Wall Street Journal, The report also notes that Costello was provided a waiver signed by Cohen which allowed the attorney to disclose their conversations so as not to run afoul of his ethical obligations.
As for the contents of those discussions? Per the WSJ:
Among the communications Mr. Costello is expected to turn over were emails he exchanged with Mr. Cohen following an FBI raid of Mr. Cohen's properties in which Mr. Costello assured him he had "friends in high places."
During an interview, Costello told the outlet that Cohen instructed him to reach out to President Donald Trump's attorney Rudy Giuliani about whether a presidential pardon might be possible. According to Costello, Giuliani said a pardon wasn't in the offing as of last spring.
In later comments, however, Costello said the "friends in high places" line was simply a reference to country superstar Garth Brooks' most famous song, "Friends in Low Places."
This statement: "Sleep Well tonight, you have friends in high places" was a tongue-in-cheek reference to a Garth Brooks song, to a client whose state of mind was highly disturbed and had suggested to us that he was suicidal. We were simply trying to be decent human beings. There is no hidden message.
The legal implications of this sustained interest in President Trump's former fixer and attorney could potentially loom quite large.
Tulane Law School Professor, attorney and CNN legal analyst Ross Garber said on Twitter that this could signal Manhattan prosecutors are "working on potential obstruction issues" related to the 45th president.
In response to a question from University of Iowa College of Law Professor Andy Grewal, Garber said he was "skeptical" that the SDNY's latest inquiry had to do with accusations that Cohen recently lied about requesting a pardon during public testimony before the House Committee on Oversight and Reform.
Garber elaborated on his initial take in an email to Law&Crime.
"It's possible federal prosecutors in New York are examining whether the president and his allies were dangling potentially favorable treatment in an effort to keep Cohen from cooperating with the government," Garber said. "This could be part of or separate from an obstruction inquiry that we know the Mueller team is conducting."
Bradley P. Moss is a national security attorney and partner at Mark S. Zaid, P.C. In a message to Law&Crime, he advised caution but said this was potentially a development with legs.
"The devil, as they say, will be in the details," Moss noted. "These emails certainly raise renewed concerns about whether Team Trump was trying to dangle pardons in order to keep people like Cohen to stay quiet or, even worse, suborn perjury. What remains to be seen is if there is more to this story than just poorly worded emails."
For Giuliani's part, he largely confirmed what Costello told the WSJ, but said he couldn't remember exactly what he told Cohen's then-attorney. Essentially, Giuliani says, he was simply advising Costello that Trump was keeping his options open on all pardon requests.
Mark Zaid also offered his thoughts on the inquiry:
The SDNY action, which properly pierces one of the most sacrosanct privileges, that of attorney-client communications, would seem to insinuate an investigation into possible obstruction charges is ongoing. One question would be whether President Trump was trading possible pardons for silence, effectively buying off witness testimony. That SDNY is pursuing this action should concern the [White House] because grasping even one thread could lead to the entire unraveling of the President's protective coat.
[images via Getty Images]
Editor's note: this story has been amended post-publication to include an additional quotation, to reference Garth Brooks and for clarity.
Have a tip we should know? [email protected]