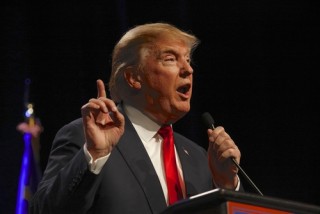 For the last several days, Donald Trump has been on a tear against federal Judge Gonzolo Curiel, who is overseeing the class action fraud lawsuit against Trump University. He's called the judge a "hater," a "Mexican," but during a Wall Street Journal interview he took the attacks a step further. Trump claimed the judge had an "absolute conflict" because of his "Mexican heritage." Legal experts across the board (even Trump supporters) are slamming Trump for his apparent lack of basic knowledge about how the legal system works.
"Put this in italics: a judge's race, ethnicity, or gender is never a basis for recusal," NYU legal ethics expert Stephen Gillers told LawNewz.com in an email. In fact, a lawyer who moves to remove a judge based solely on his ethnicity could face sanctions.
Here is excerpt from the WSJ that is causing so much controversy:
In an interview, Mr. Trump said U.S. District Judge Gonzalo Curiel had "an absolute conflict" in presiding over the litigation given that he was "of Mexican heritage" and a member of a Latino lawyers' association. Mr. Trump said the background of the judge, who was born in Indiana to Mexican immigrants, was relevant because of his campaign stance against illegal immigration and his pledge to seal the southern U.S. border. "I'm building a wall. It's an inherent conflict of interest," Mr. Trump said.
Before becoming a judge, Gonzalo served as an assistant U.S. attorney in California. According to confirmation testimony, one of his most significant cases involved the successful prosecution of the Arellano Felix Drug cartel, a multi-billion dollar drug trafficking ring responsible for more than 100 murders in the United States and Mexico.
CNN's legal analyst, Jeffrey Toobin, ripped into Trump's claim that Curiel has a "conflict of interest."
"It simply is not part of the American legal system to make this sort of demand, and I don't see any other explanation for this than, I'm sorry to say, bigotry," Toobin said.
"First off, the organization, there is a political advocacy organization called La Raza which does do advocacy. That is not the group the judge is a part of. He is part of a different group that is also called La Raza [Lawyers of San Diego] which is simply a lawyer's fraternal organization," Toobin added. "It is never grounds for recusal."
In addition, if Trump's lawyers were to file a motion for recusal, there is a possibility they could be sanctioned. Lawyers in the case, MacDraw v. CIT Financial, tried to do just that. The attorneys claimed that federal Judge Denny Chin should be recused because he was appointed by the "Clinton Administration" and because of his race and ethnicity. Judge Chin imposed sanctions, and the United States Court of Appeals Second Circuit upheld them on appeal.
"Judge Chin's imposition of sanctions was well within his discretion," the circuit judges wrote.
What's more, even Trump's own surrogate, Kayleigh McEnany, who attends Harvard Law School, disagreed with Trump's reasoning.
"He should have not mentioned the Judge's heritage. There is no a viable argument there that because of his heritage that he is somehow biased," McEnany said on CNN Thursday night.
Have a tip we should know? [email protected]
Rachel Stockman - Editor in Chief / On Air Host