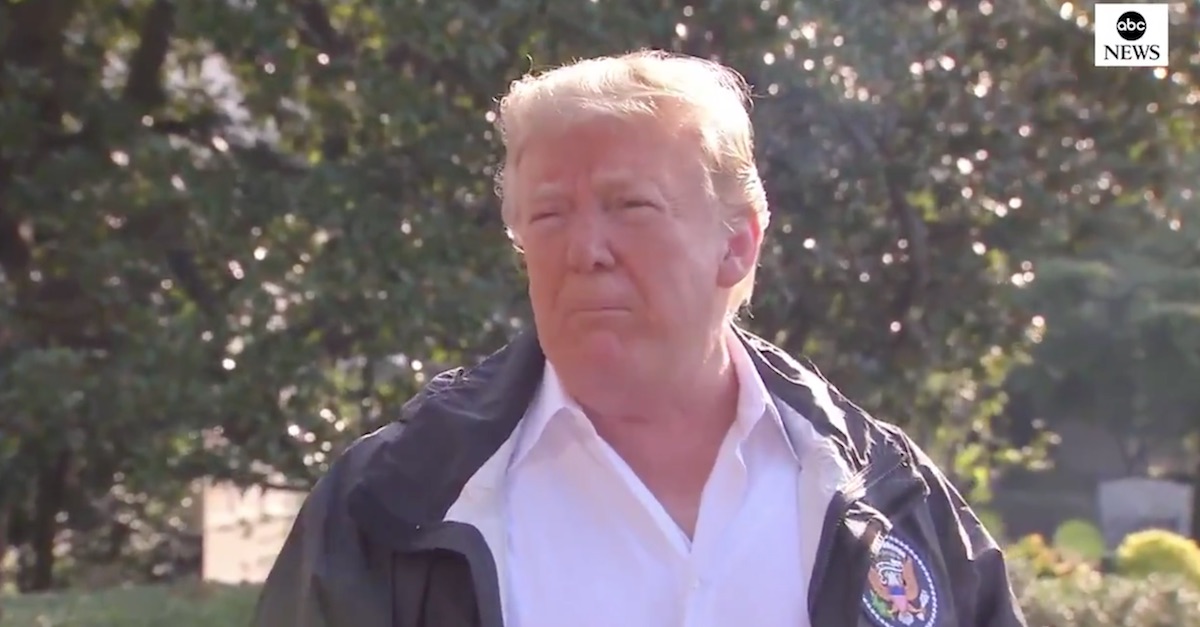 The 2018-2019 government shutdown continues, as Democratic lawmakers in the House of Representatives and the Senate have made it abundantly clear that they will not budge on President Donald Trump's demand for billions of dollars in funding to build The Wall.
A new wrinkle was introduced to the discussion on Friday afternoon, as President Trump claimed that he has the "power" to bypass Congress on "national emergency" grounds and build The Wall.
President Trump on Friday threatened to use emergency powers to build a wall along the U.S.-Mexico border, a move that would defy a Congress that — amid Democratic opposition — has thus far refused to allocate any new money for a border wall.

Asked Friday if he would declare a national emergency to get the wall built, Trump responded: "We can do it. I haven't done it. I may do it. I may do it."

The government has been partially shut down since Dec. 22, as Trump has demanded any budget deal include more than $5 billion in wall funding.
Simply put, Trump asserted that he has the "power" to bypass Congress and build the wall on national emergency grounds. "I am allowed to do that," he said. At least one constitutional law expert has argued that this idea is destined to fail, as there just so happens to be a Supreme Court precedent that may be applied to the situation.
University of Texas Law Professor and national security law expert Steve Vladeck immediately chimed in to say that "there was once a major #SCOTUS case in which the President seized property within the United States during what he claimed was a national emergency even though Congress hadn't authorized him to do so."
"It didn't end well for the president," he added.
What Vladeck is referring to is the Supreme Court case Youngstown Sheet & Tube Co. v. Sawyer. What was this case about, you ask? Then-President Harry Truman, fearing the implications of a protracted steel worker strike, asserted control over steel mills on national security grounds, as the Korean War raged on and U.S. intervention in it continued.
Here's what happened:
To avert a nationwide strike of steel workers in April 1952, which he believed would jeopardize national defense, the President [Truman] issued an Executive Order directing the Secretary of Commerce to seize and operate most of the steel mills. The Order was not based upon any specific statutory authority, but was based generally upon all powers vested in the President by the Constitution and laws of the United States and as President of the United States and Commander in Chief of the Armed Forces. The Secretary issued an order seizing the steel mills and directing their presidents to operate them as operating managers for the United States in accordance with his regulations and directions. The President promptly reported these events to Congress; but Congress took no action. It had provided other methods of dealing with such situations, and had refused to authorize governmental seizures of property to settle labor disputes. The steel companies sued the Secretary in a Federal District Court, praying for a declaratory judgment and injunctive relief. The District Court issued a preliminary injunction, which the Court of Appeals stayed.
Supreme Court Justice Hugo Black famously opined that the president had no such constitutional power to seize private property on the grounds that he is the Commander in Chief of the Armed Forces and it had to be done.
"The order cannot properly be sustained as an exercise of the President's military power as Commander in Chief of the Armed Forces. The Government attempts to do so by citing a number of cases upholding broad powers in military commanders engaged in day-to-day fighting in a theater of war," Justice Black wrote. "Such cases need not concern us here. Even though 'theater of war' be an expanding concept, we cannot with faithfulness to our constitutional system hold that the Commander in Chief of the Armed Forces has the ultimate power as such to take possession of private property in order to keep labor disputes from stopping production. This is a job for the Nation's lawmakers, not for its military authorities."
"Nor can the seizure order be sustained because of the several constitutional provisions that grant executive power to the President. In the framework of our Constitution, the President's power to see that the laws are faithfully executed refutes the idea that he is to be a lawmaker," Black continued. "The Constitution limits his functions in the lawmaking process to the recommending of laws he thinks wise and the vetoing of laws he thinks bad. And the Constitution is neither silent nor equivocal about who shall make laws which the President is to execute."
Prof. Vladeck went on to point out that there are laws on the federal books that allow "military construction projects" to occur when a president declares a "national emergency," but "such projects may be undertaken only within the total amount of funds that have been appropriated for military construction, including funds appropriated for family housing, that have not been obligated."
Vladeck also said that there are cases regarding "military eminent domain," but these relate to military necessity.
[Image via ABC News screengrab]
Have a tip we should know? [email protected]