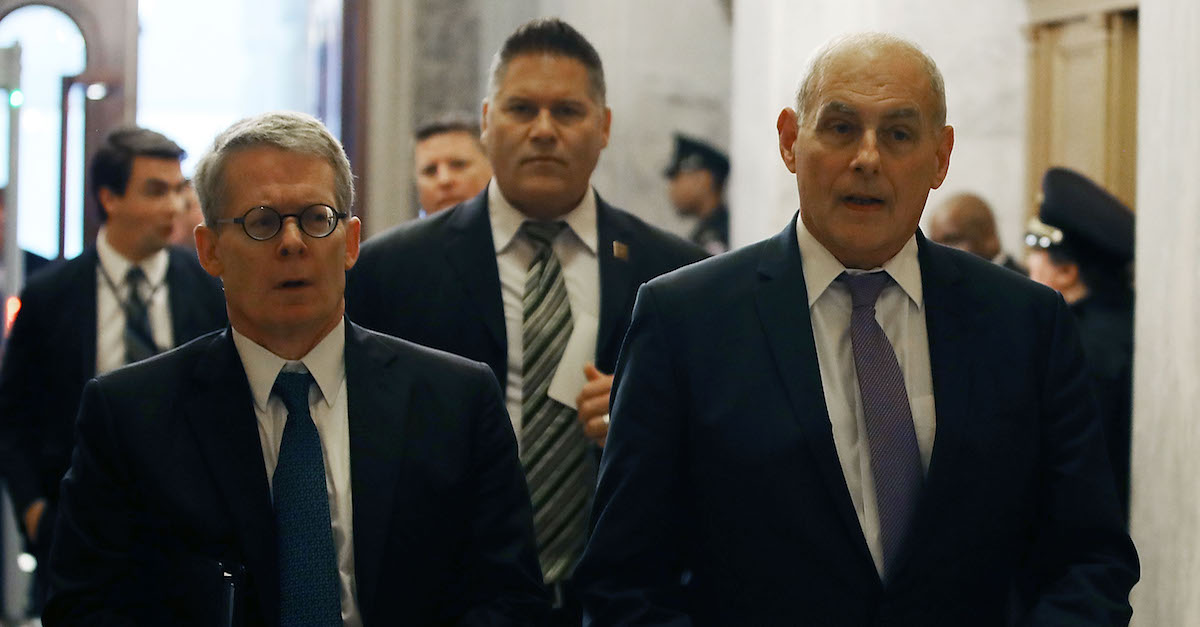 Legal minds were none too pleased about Donald Trump's White House lawyer for the Russia probe and the president's chief of staff showing up at a Department of Justice meeting they apparently had no business being at.
Emmet Flood and John Kelly made waves when they were seen at two meetings between DOJ officials and members of Congress about the "informant" the FBI had inside the Trump campaign.
Flood reportedly left not long after these meetings began.
"Neither [Kelly] nor Mr. Flood actually attended the meetings but did make brief remarks before the meetings started to relay the President's desire for as much openness as possible under the law," White House press secretary Sarah Huckabee Sanders said later.
Still, Flood's appearance at a classified meeting involving Deputy Attorney General Rod Rosenstein, House Speaker Paul Ryan (R-Wisc.), Rep. Devin Nunes (R-Calif.), Rep. Trey Gowdy and Rep. Adam Schiff (D-Calif.) raised eyebrows. Nunes is chair of the House Intelligence Committee and Schiff is the top Democrat there. Gowdy, who is retiring, is the chair of the House Oversight Committee.
Lawyers wanted to know what interest Flood had being there:
Law&Crime asked these three lawyers why they viewed the Flood appearance as inappropriate.
National security lawyer Bradley P. Moss called it an "error" and said there was no reason for Flood to be there.
"At an absolute minimum, this is an unforced and unnecessary error on the part of the White House. There is no reason for Flood to be present at this particular meeting, even if only to handle initial introductions," he said. "This is a DOJ briefing for lawmakers about an informant who provided the FBI with information during the course of the agency's initial investigation into possible Russian interference in and coordination with the Trump campaign."
"The head of that campaign was the candidate, who is now the President. To have the President's in-house counsel present at that meeting reeks of potential impropriety," he added.
Former federal prosecutor Renato Mariotti asked in his tweet above what "legitimate purpose" Flood could have had for being there.
He said that the appearance could have been an attempt to undermine the Mueller Probe.
"A possible illegitimate purpose could be to use the power of the presidency to influence Congressional leadership in an attempt to use their oversight power to undermine the Mueller investigation," Mariotti said. "If they had stayed at the meeting, which I thought was possible at the time, another possible illegitimate purpose would have been to discover information about the investigation that could be used to undermine the investigation."
"It's worth noting that Giuliani spoke to Politico as if his team will learn the substance of today's briefing," he added.
Giuliani did, indeed, speak that way.
Giuliani later said "the President personally wanted Emmet there today."
MSNBC Legal Analyst Mimi Rocah said that this is "unheard of and unwarranted in our criminal justice system."
"The real purpose of this meeting is about Trump and the subjects of an ongoing criminal investigation trying to get information to help inform their defense — something that is unheard of and unwarranted in our criminal justice system," she said. "In fact, the entire premise of the meeting — that there was a 'spy' planted in the Trump campaign for political purposes is a lie.  A confidential source was utilized by law enforcement to talk to certain people to ferret out why Russian operatives were in contact with those people (and about which Trump was warned)."
In case you missed it, Flood was added to Trump's White House legal team on at the beginning of May when Ty Cobb announced his retirement. It has been noted that Flood was in in the White House Counsel's Office during George W. Bush's second term as president and represented Bill Clinton during impeachment proceedings.
According to Flood's bio at Williams & Connolly, the law firm where he served as a partner, Flood "represents individuals, corporations and professional services firms in complex white-collar matters, Congressional investigations, professional liability disputes, and other high-stakes litigation and crisis situations."
Editor's note: this story was updated after publication for clarity and with additional comment from Giuliani.
[Image via by Mark Wilson/Getty Images]
Have a tip we should know? [email protected]