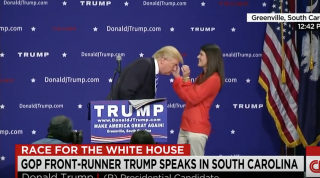 Gawker is in the middle of yet another legal mess. Last month, Gawker reporter, Ashley Feinberg, questioned whether Donald Trump's hair was, in her words, a"cotton candy hairspray labyrinth." In her article, Feinberg drew connections between Trump and Ivari International, which specializes in $60,000 a piece hair extensions.  Her article drew praise from a variety of news sources including the New York Times, the Wall Street Journal, and the Atlantic.
However, not everyone was impressed with the article.  Charles J. Harder, the lawyer for Ivari International, sent Gawker a letter asking the website to reveal its sources, take down the story from their website, and issue a public apology.  Harder, in his letter, called the story "false and defamatory", and  deemed that it was an invasion of privacy of Ivari International, and said that the story caused unwarranted emotional distress according to Gawker.
"[We specifically demand that Gawker Media and its employees] immediately provide us with the name and all contact information for the unnamed "tipster" of the story, so that we can serve that person with an immediate cease and desist letter to stop the spread of the false Story," Harder wrote according to Gawker.
Gawker has denied the claim that this story was defamatory and considers it another disguised attack against the website from Silicon Valley Billionaire Peter Thiel. Thiel has been involved in many lawsuits against Gawker after they outed his sexuality in a post back in 2007 according to Forbes. Thiel paid the bills for Hulk Hogan's lawyers in a lawsuit that led to a $140 million judgment against Gawker.  This judgment also forced Gawker to file for bankruptcy and go up for sale according to USA Today.
Gawker has also insisted that their reporting was not based on one tipster but instead a slew of assertions, which include the site of Ivari International's New York office, the 25th floor of Trump Tower, also the site of Donald Trump's private office, and multiple advertisements placed by Ivari International in New York Magazine.  The website has defended itself adamantly claiming that "the absurdity of Harder's threats should not distract from the underlying mission of the man who pays him: To intimidate Gawker and its reporters from publishing true things about public figures," according to Gawker.
As for Trump, he continues to say that his hair is real.
"I don't wear a toupee, it's my hair, I swear. This is getting crazy," said Trump last year at rally according to the Hill
So far, Trump has not commented on the story or the legal threat.
Have a tip we should know? [email protected]