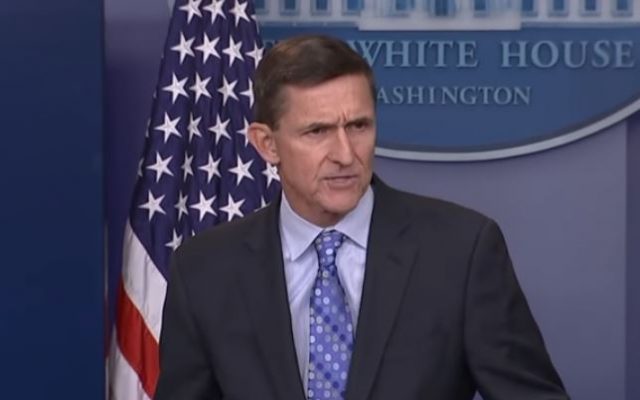 Nearly every news channel, newspaper and online source has been filled with stories this morning since news broke late last night that former Trump national security advisor Michael Flynn offered to testify with an immunity deal from Senate and House investigators.  The investigation is reportedly focused on alleged meetings between members of Donald Trump's campaign team and some members of Russia's government.
Members of Congress apparently want to interview Flynn and knowing that at least transcripts of his conversations existed, he did what any sensible Washington, D.C. veteran would do and hired a lawyer.  Though, his choice of a lawyer might surprise you.  As it turns out, Flynn went with a man who appears to have been quite the "Never Trumper" during the last campaign.
Flynn hired Washington, D.C. attorney Robert Kelner of Covington & Burlington, LLP.   FEC records show Kelner is definitely a Republican supporter, but it appears he may have been from the "Never Trump" variety of 2016 Republicans, at least according to tweets discovered on his account.
For example, in one tweet he appears to question Trump's soundness of mind to be the leader of the Free World.
In the absence of a sound GOP option for President, I'll be voting for @Evan_McMullin and @mindyfinn as write-ins on the Maryland ballot.

— Robert Kelner (@robkelner) October 15, 2016
In another, he attacked then-candidate Trump over his remarks about war hero Sen. John McCain:
Senator McCain is an American hero. We thank him for his sacrifices and honorable service. https://t.co/StGBmhAy2T

— Robert Kelner (@robkelner) February 10, 2017
He even suggested Russian President Vladimir Putin might attempt to make a unilateral gesture towards Trump, in an effort to get a deal with the new U.S. President.
Look for Putin to take conciliatory posture in first months of Trump admin. Perhaps even make unilateral gestures. He's looking for a deal. https://t.co/DKbY1AFALD

— Robert Kelner (@robkelner) December 31, 2016
However, much like how Hillary Clinton's likely pick for AG suddenly became Ivanka Trump's lawyer, Kelner seems to have made the decision to put the practice of law over politics in his decision to represent Flynn.
He released a statement earlier this week announcing Flynn as a client.
A statement by counsel to General Flynn. pic.twitter.com/JQs90OI2OY

— Robert Kelner (@robkelner) March 30, 2017
In the statement, he harshly condemned the media for being "awash with unfounded rumors" about Flynn's conduct.  Most importantly, he said, "No reasonable person who has benefit of the advice from counsel, would submit to questioning in such a highly politicized, witch hunt environment without assurances against unfair prosecution."
[image via screengrab]
Have a tip we should know? [email protected]