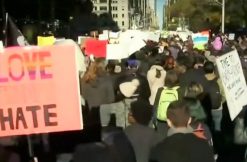 Sen. Doug Ericksen (R-Ferndale) doesn't like what he sees out of recent anti-Trump protests. The Washington State lawmaker is seeking to criminalize what he calls "economic terrorism." But, experts we spoke to question whether the bill would pass constitutional muster.
"The measure would allow felony prosecution of those who intentionally break the law in an attempt to intimidate or coerce private citizens or the government by obstructing economic activity," his office said in a news release publicized Tuesday.
The bill hasn't been introduced to the Washington State Senate yet, so its exact wording remains unavailable.
Ericksen's measure would create a class C felony when protests aimed at causing economic disruption jeopardize human life and property. It would not apply in cases of lawful and protected activities, such as strikes and picketing.

The penalties apply not just to participants but also to those who fund, organize, sponsor or otherwise encourage others to commit acts of economic terrorism. Accomplices may be required to pay restitution up to triple the amount of economic damage.
You can read the news release here.
Text of Trump ally Sen. Ericksen's news release proposing felony charges for protesters & "accomplices." #waelex #waleg pic.twitter.com/9fAfxCNB9a

— Joe O'Sullivan (@OlympiaJoe) November 17, 2016
Donald Trump's victory in the 2016 presidential election sparked a lot of vocal opposition. His incendiary rhetoric and the fact that he lost the popular vote encouraged a number of people nationwide to protest. And there have been plenty of arrests. At least 26 people were cuffed at a November 10 protest in Portland, Oregon. On Saturday, thousands weaved up Fifth Avenue, blocking traffic to protest at Trump Tower on Columbus Circle. The NYPD said that it brought in at least 65 people for disorderly conduct or resisting arrest, NBC reports.
We spoke to a couple of First Amendment experts. The bill remains unpublished, but the details in the press release perplexed them.
"The first question that comes to my mind is why existing criminal laws pertaining to trespass, riot, property destruction, and conspiracy are not entirely sufficient to address non-peaceful protests," John D. Inazu, the Sally D. Danforth Distinguished Professor of Law and Religion at Washington University in St. Louis, told Law Newz. "To be sure, civil disobedience that engages in actual lawbreaking is properly subject to prosecution and punishment — accepting lawful consequences is part and parcel to the nature of civil disobedience. But I don't see any reason to introduce new laws to the criminal code in light of existing laws."
Professor Ronald K.L. Collins, the Harold S. Shelfelman Scholar at the University of Washington School of Law, said it's just unlikely for a bill like this to be enacted, let alone survive constitutional requirements.
"As a matter of First Amendment law, this proposed bill skates on very thin ice," he said in a talk with Law Newz.com. That's because "it smacks of being content discrimination," he said. This sort of thing is prohibited under the U.S. and Washington State constitutions. After all, most protesters are anti-Trump demonstrators. (It's worth mentioning that Ericksen is vocal Trump supporter.) And then there's the matter of the bill being clear.
"The proposed law is highly likely to be overbroad and vague under the federal and Washington Constitutions," he said
Like Inazu, he wondered why this new bill is even necessary since current law could be used to the same effect.
Collins explained that this bill will likely get skepticism from both liberal and conservative jurists. And yes, he included the Supreme Court, led by Bush appointee Chief Justice John Roberts, in that number. He added that the proposed law could plausibly be used against Planned Parenthood protesters and religious opponents of LGBT business.
His colleague, Professor Stewart Jay, the Emeritus Pendleton Miller Endowed Chair of Law, had similar reservations as the other professors.
"Pretty much everything I see in the press release is already a crime," Jay said. He added that it's quite possible to write a constitutional law on the subject, though he explained that economic intimidation has actually been okayed by the U.S. Supreme Court.
"There is nothing unconstitutional to make it illegal to block traffic or firebombing somebody's business," he said. "But economic intimidation is legal as it's not a threat of violence. By 'intimidation,' I don't mean threats." So what does it mean? He says, "Your words cause someone not to engage with certain business operations. A threat is when you say, 'I'm going to harm you if you do the following thing.'" He then provided examples of the latter, such as murder.
Jay is citing the 1982 case NAACP v. Claibourne Hardware. Justices held that demonstrators weren't held liable for a heated boycott of white merchants in Claibourne County, Mississippi.
"While States have broad power to regulate economic activities, there is no comparable right to prohibit peaceful political activity such as that found in the boycott in this case," the opinion said in the "holding" section.
We've reached out to Senator Ericksen about civil liberty concerns, and what the bill actually covers that current law (eg. disorderly conduct) does not.
[Screengrab via Reuters]
Have a tip we should know? [email protected]