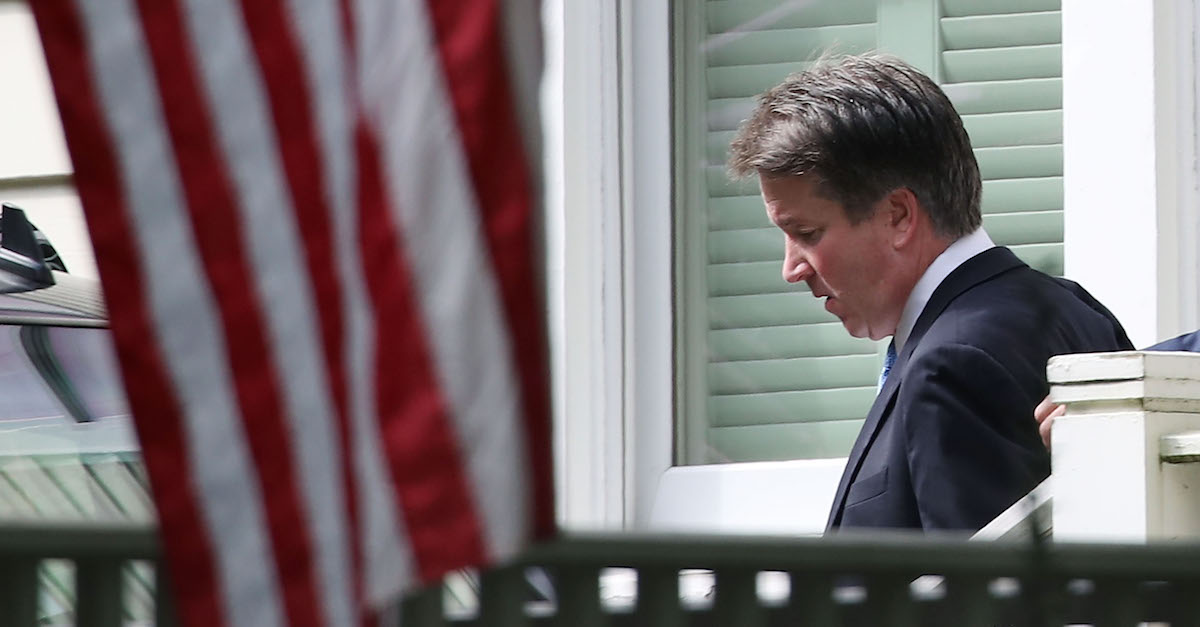 The FBI has re-opened their background investigation into Brett Kavanaugh following an eleventh hour intervention by Senator Jeff Flake (R-AZ)–a decision which was itself prompted by sexual assault survivors confronting the Arizona Republican in a congressional elevator on Friday.
While conservative commentators mocked the women, their protest led to a one-week delay on Kavanaugh's final vote before the full Senate while the FBI performs their highly circumscribed investigation. On Saturday, Law&Crime reported that Maryland authorities were also prepared to investigate allegations of sexual assault against Kavanaugh–should Dr. Christine Blasey Ford file an official complaint.
With the prospect of tandem investigations into Judge Kavanaugh on the horizon, Law&Crime Network host and former Nashville Police Department officer Vincent T. Hill offered some expert insight into how such inquiries might differ. His comments below are being reproduced in their entirety–with some additional editing for formatting's sake.
Law&Crime: Could you describe how the potential investigations might be different in general terms?
Hill: "The investigations would differ is multiple ways. Imagine we were in 1982, the FBI would not investigate a single incident of an allegation of sexual assault. It is NOT a federal offense and the jurisdiction would be that of local law enforcement or state law enforcement if the city it occurred in does not have its own police department. The only time the FBI would become involved would be at the request of the local/ state law enforcement agency. Local law enforcement would attempt to gather not only statements from the accuser or witnesses, but also physical corroborating evidence."
Law&Crime: Could you explain the scope of the FBI's investigation?
Hill: "It is important to understand, the FBI itself will not be doing an investigation into the sexual assault from an evidentiary standpoint, but rather the background of Judge Kavanaugh and if there is anything in his background which would cause his top secret clearance to become revoked. An allegation in itself will not suffice alone. With that I mean, agents will question of course the accuser and the accused, any witnesses and compile a findings report. It would be up to the [Department of Justice] to determine at that point if those findings would revoke Judge Kavanaugh's security clearance."
Law&Crime: How about the time-frame here and the human resources involved?
Hill: "I don't anticipate this going longer than a week or maybe even shorter, but it will take several agents. An agent to talk to the accuser, an agent to talk to the accused, agents to talk to witnesses. An important note, the FBI cannot force someone to talk, much like local law enforcement. However, all involved parties in this alleged incident have stated they will fully cooperate. But as you know, this situation has been so fluid that the cooperation could change by the time witnesses are approached in person by agents. This of course could delay the final outcome."
Law&Crime: And what should folks expect in terms of an outcome?
Hill: "To be clear, the report WILL NOT suggest guilt or innocence, only what was relayed to agents during the investigation. The FBI WILL NOT state "they believe Ford" or "believe Kavanaugh." It is important for the public to understand, if they are wanting a "guilty" statement from the FBI or an "innocent" [statement] for that matter, the FBI investigation will not provide that. Since this is a federal background check, the final report will be placed in the individual's file. However, the report will be available to Senators and I speculate, the information will become public as soon as it is ready because of the national coverage of this."
[image via [Image via Mark Wilson/Getty Images]
Follow Colin Kalmbacher on Twitter: @colinkalmbacher
Have a tip we should know? [email protected]