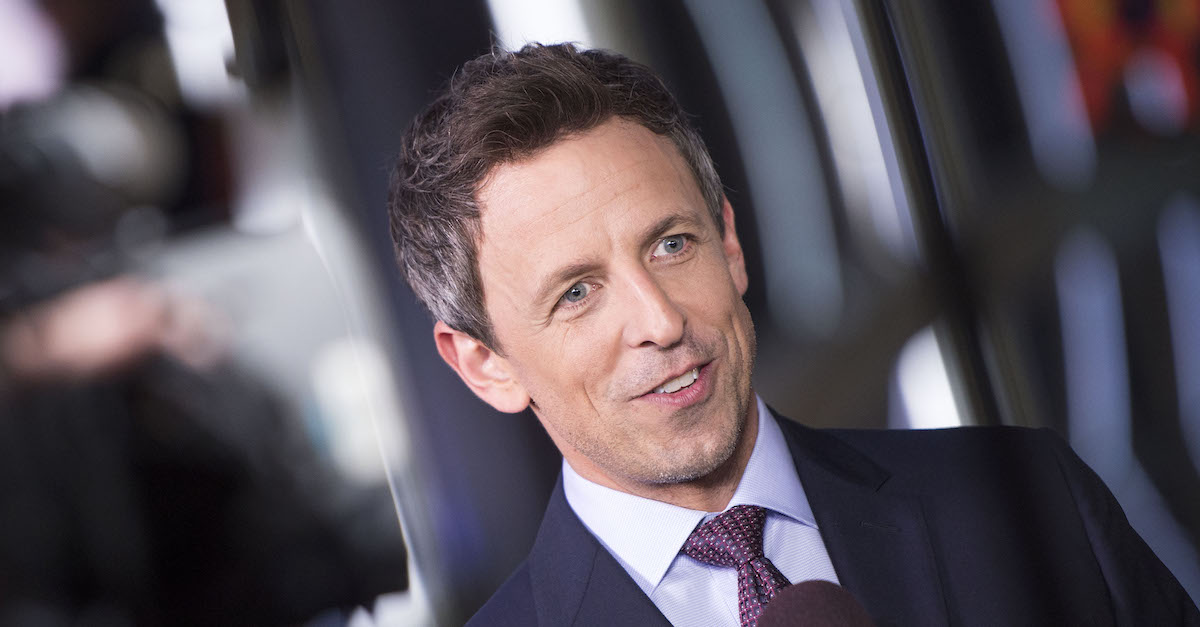 Everyone is preparing a rapid response to the redacted version of Special Counsel Robert Mueller's 400-page Russia report, which the Department of Justice said will drop on Thursday. Late Night with Seth Meyers is apparently so excited about this upcoming event that it's vowing to "give context to the redacted version of the Mueller report becoming public earlier in the day."
Host Seth Meyers said that he didn't want to bump interviews of SNL's Leslie Jones and Democratic presidential candidate, South Bend Mayor Pete Buttigieg. Instead, he's going to "make room for both" the interviews and the Mueller context crash course.
"I simply will not stand for the Mueller report bumping Leslie Jones or vice versa, so we decided to make room for both," Meyers said according to The Hill.
The special coverage announcement was roundly mocked on Twitter.
In a few instances, the intelligence of individuals who would turn in to hear Meyers speak on the legal implications of the Mueller report was called into question. It's worth mentioning that some studies and polls have shown that some people do trust comedians more than news sources.
The context you should know is that Attorney General William Barr and Deputy Attorney General Rod Rosenstein have determined that the evidence was "not sufficient" to allege that President Donald Trump obstructed justice. However, Special Counsel Robert Mueller did not exonerate Trump, Barr said.
This has led some to predict that there may still be details in the report damaging enough to the president to spawn impeachment proceedings. Meanwhile, President Trump has falsely claimed to have been "completely exonerated by Mueller. In reality, while Mueller did not allege a conspiracy between Trump/Trump campaign and Russia, he also didn't exonerate Trump of obstructing the investigation.
Whatever "not exonerating" looks like is supposed to (mostly) be released on Thursday morning. We say mostly because we already know that grand jury info, info that would jeopardize ongoing cases, info that would unfairly highlight expose third parties and info revealed intel sources and methods will all be redacted. We also know that these redactions will be color-coded and be accompanied by explanatory notes. The report is going to be about 400 pages long (not counting exhibits etc.) and the Trump lawyer rebuttal is reportedly being  "whittled down" from 140 pages to around 50 pages.
Although criticism of Barr has heightened in recent days, Deputy AG Rosenstein has attempted to defend his boss.
"He's being as forthcoming as he can, and so this notion that he's trying to mislead people, I think is just completely bizarre," Rosenstein said.
"It would be one thing if you put out a letter and said, 'I'm not going to give you the report,'" he added. "What he said is, 'Look, it's going to take a while to process the report. In the meantime, people really want to know what's in it. I'm going to give you the top-line conclusions.' That's all he was trying to do."
Rosenstein also said Americans should have "tremendous confidence" in Barr. Democrats' confidence in Barr or lack thereof has been well-documented. Part of that was a problem of Barr's own making.
You may remember that Barr sent an "unsolicited" memo to DOJ officials in June 2018, expressing his belief that the obstruction of justice probe that began after President Trump fired former FBI Director James Comey was a no-go. Barr memorably characterized the "specific obstruction-of-justice theory" he believed his long-time friend Robert Mueller was considering as "fatally misconceived." Barr said it was well within Trump's authority to fire Comey and to ask Comey to give fired National Security Advisor Michael Flynn a "break." Trump would later tell NBC News' Lester Holt that "this Russia thing" had something to do with the firing.
At the time Barr sent this letter, Jeff Sessions was still the AG. It seemed obvious, however, that Sessions, having recused himself from the Russia probe, was not long for this role. What happened next? Matthew Whitaker was appointed acting AG and, after a few tumultuous months, Whitaker was replaced by Barr. Confidence in Barr reached newer lows when he floated the idea before lawmakers that "unauthorized spying" of the Trump campaign may have occurred.
Later that day, Barr said he had "no evidence" to support this. Despite this, President Trump tweeted "THEY SPIED ON MY CAMPAIGN (We will never forget)!" earlier Monday.
[Image via VALERIE MACON/AFP/Getty Images]
Have a tip we should know? [email protected]