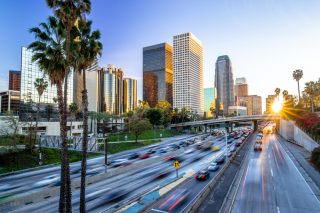 The battle lines have been drawn, and the City of Los Angeles is preparing for war with President-elect Donald Trump over potential deportation efforts to decrease the number of undocumented citizens in the United States. Trump campaigned with a vow to remove the estimated 11 million people who entered the country illegally, although since winning the election, he has lowered that number to roughly 2 or 3 million who have criminal records.
Such efforts are problematic for L.A. and other cities, not just because they want to protect those who live there, but because they rely on them to help sustain their economies. Mayor Eric Garcetti told the L.A. Times that the region depends on undocumented immigrants, for both their work and their taxes. Mayoral spokesperson Connie Llanos said the effect would be more than just local. "L.A.'s success is important not only to our region's economy, but to our national economic health," she said. Garcetti also told the Times that he plans to speak with Trump soon about a variety of issues, and is willing to work with him.
Trump has already expressed a desire to cut federal funding from cities that are lax when it comes to illegal immigration. Los Angeles is set to get half a billion dollars in federal funding this year. Police Chief Charlie Beck said this week that officers will cooperate with federal deportation efforts. City Council President Herb Wesson said Thursday that he will be hiring an immigrant advocate and will explore policy options to protect people from deportation.
But will any of this be effective? Ira Mehlman, of the Federation for American Immigration Reform, doesn't think so, because this is really a federal issue that is out of the city's hands. "A lot of this is just posturing," he told the Times. "There's really not a lot L.A. can do to protect people in the country that they haven't already done."
Have a tip we should know? [email protected]