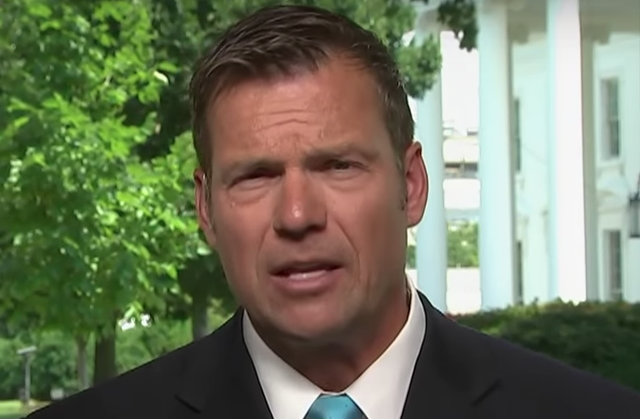 A legal group filed a Department of Justice complaint against Kansas Secretary of State Kris Kobach on Tuesday. They argue he may have broken a federal conflict of interest law for getting money to write a column in the right-wing outlet Breitbart. The issue isn't the article itself. According to the complaint, the problem is that he received compensation when he was apparently acting in his official capacity as a member of the president's voter fraud commission. The group, Citizens for Responsibility and Ethics in Washington, said this might break 18 U.S.C. § 208, and they want the DOJ to investigate.
Kobach became a paid columnist for Breitbart in the summer. As part of that work, he wrote an article in September claiming "out-of-state voters" affected the outcome of a New Hampshire U.S. Senate race. His bio at the bottom included this line: "In 2017 President Trump named him Vice Chairman of the Presidential Commission on Election Integrity."
Five days later, according to CREW, Kobach incorporated that article into a commission meeting in New Hampshire, listed it in the commission's meeting materials, put it on its website, and spent a lot of time talking about it.
"The timing, context, content, and use of the Breitbart column strongly suggests Secretary Kobach wrote it in his official capacity as a member of the Commission, for the purpose of carrying out his Commission duties to 'study the registration and voting processes used in Federal elections,'" said the complaint sent to DOJ Federal Programs Branch Director Jennifer D. Ricketts.
Kobach did not immediately respond to a Law&Crime request for comment. He is a Republican. CREW, which has filed numerous complaints against the Trump administration, describes itself as nonpartisan.
18 U.S.C. § 208 prohibits members of the executive branch and independent agencies from engaging in "acts affecting a personal financial interest."
[Screengrab via MSNBC]
Have a tip we should know? [email protected]