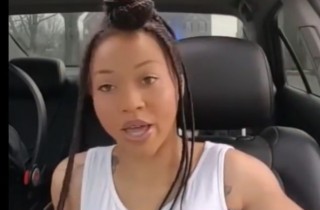 On Monday, Baltimore police shot and killed 23-year-old Korryn Gaines when trying to serve her and an adult man with warrants. Her son, five-year-old Kodi Gaines, was also struck by a bullet. Now we know he was shot by a SWAT team member during the standoff with his mother.
From a Baltimore County statement published Friday afternoon:
As a result of an additional medical procedure performed today at Johns Hopkins Children's Center, Baltimore County Police believe that a round fired by a tactical officer struck Kodi Gaines, the five-year-old who suffered non life-threatening injuries in Monday's police-involved shooting in Randallstown.
It's another development in what's become bizarre story.
Police say Korryn Gaines had anti-government views. Though she wasn't linked to any group, she didn't seem to acknowledge government authority.
It all started with her license plate, or the lack thereof. According to a Baltimore Police Department statement, she was pulled over for a traffic stop on March 10. She allegedly had no actual plate, just a cardboard box with this on it: "Any government official who compromises this pursuit to happiness and right to travel, will be held criminally responsible and fined, as this is a natural right to freedom."
She was allegedly belligerent, tearing citations, and telling cop they'd have to "murder" her to get her out of the vehicle.
Jump to August 1. Gaines allegedly failed to appear in court to face the traffic charges, so authorities went to her home to issue her a warrant. She allegedly met them with a 12-gauge shotgun. This ignited a standoff that lasted over six-hours, and ended after Gaines pointed a gun at a tactical officer, threatening to kill him. Authorities opened fire, and as stated above, also hit Kodi, who was in the apartment too. Korryn Gaines died at the scene.
[Screengrab via Korryn Gaines]
–
Follow Alberto Luperon on Twitter (@Alberto Luperon)
Have a tip we should know? [email protected]