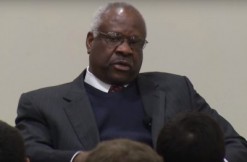 Supreme Court Justice Clarence Thomas asked a question at a Supreme Court hearing Monday. I repeat: the 67-year-old Justice just spoke in court. This is absolutely breaking news. He hasn't said a dang thing from the bench for the past 10 years. That's a long while to be mute.
So what made him finally talk? The court is reviewing a case about whether a federal law can ban people convicted of domestic violence from owning guns. Thomas asked a Justice Department attorney whether a person's constitutional rights can be suspended after the violation of any other law.
Don't expect this to be a new habit, though. He'll probably return to keeping quiet.
"I think it's unnecessary in deciding cases to ask that many questions, and I don't think it's helpful," said Thomas at a 2013 Harvard Law school lecture.
His habitual silence has critics, too. "While Justice Thomas's seemingly cheeky vow of silence may be self-amusing, his reticence is a disservice to the annals of legal history and the American people," wrote LawNewz editor Matt Strong. "Further, litigants are disadvantaged by an inability to engross one of nine arbiters as they articulate their cases."
Thomas was nominated to the Supreme Court in 1991 by President George H.W. Bush. Cue the sexual harassment allegation by lawyer Anita Hill, who previously worked under him at the Department of Education and Equal Employment Opportunity Commission. Things got ugly, and he was barely confirmed by the U.S. Senate.
[h/t Associated Press]
[image via Harvard Law School screengrab]
Update — Feb. 29, 1:10 p.m. EST: The AP updated, saying he went on to ask several questions.
–
Follow Alberto Luperon on Twitter (@Alberto Luperon)
Have a tip we should know? [email protected]