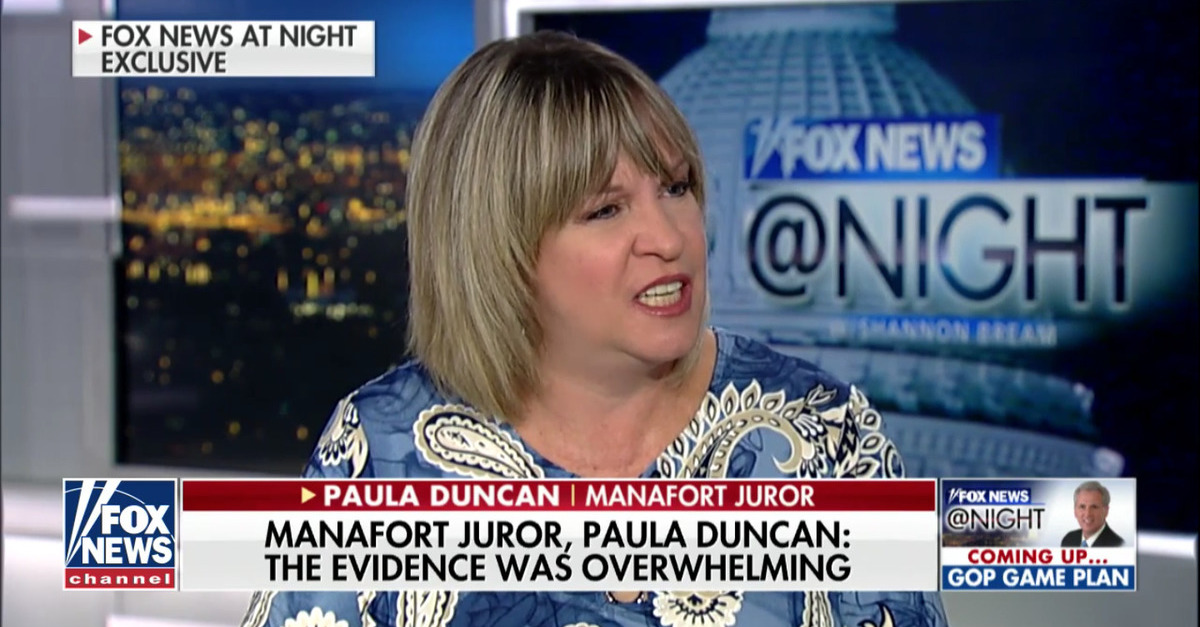 One juror in the Paul Manafort trial said she and her fellow jurors were a bit turned off by the prosecution's attitude toward the case–even accusing Robert Mueller's team of "napping" during the proceedings.
Paula Duncan says she's a Trump supporter, but voted to convict Manafort due to the strength of the evidence against him. Duncan appeared on Fox News Wednesday evening to dish about the circumstances leading toward the jury's failure to convict Manafort on all 18 counts against him. Duncan's comments regarding the "one holdout" who prevented a conviction on all charges have been widely reported.
Mostly treading under the radar, however, is Duncan's controversial assertion that government prosecutors were apparently so uninterested in their own case that they occasionally fell asleep. During an interview, host Shannon Bream, asked, "First of all, the Mueller team, what did you make of the prosecution?" To which Duncan replied, "Well, at times, I thought the prosecution was a little bored. I mean, I saw them napping during the trial."
"Napping during the trial?" Bream asked, surprised.
Duncan confirmed, saying it was disheartening to see. She said, "it kind of sent a message of 'we're bored with this' and I'm thinking, 'well if you're bored then why are we here?'"
Duncan accused two of Special Counsel Robert Mueller's prosecutors of napping on the job, but not Assistant United States Attorney Uzo Asonye, the Special Counsel's second chair who frequently commanded the courtroom with his presence.
[Image via Fox News screengrab]
Follow Colin Kalmbacher on Twitter: @colinkalmbacher
Have a tip we should know? [email protected]