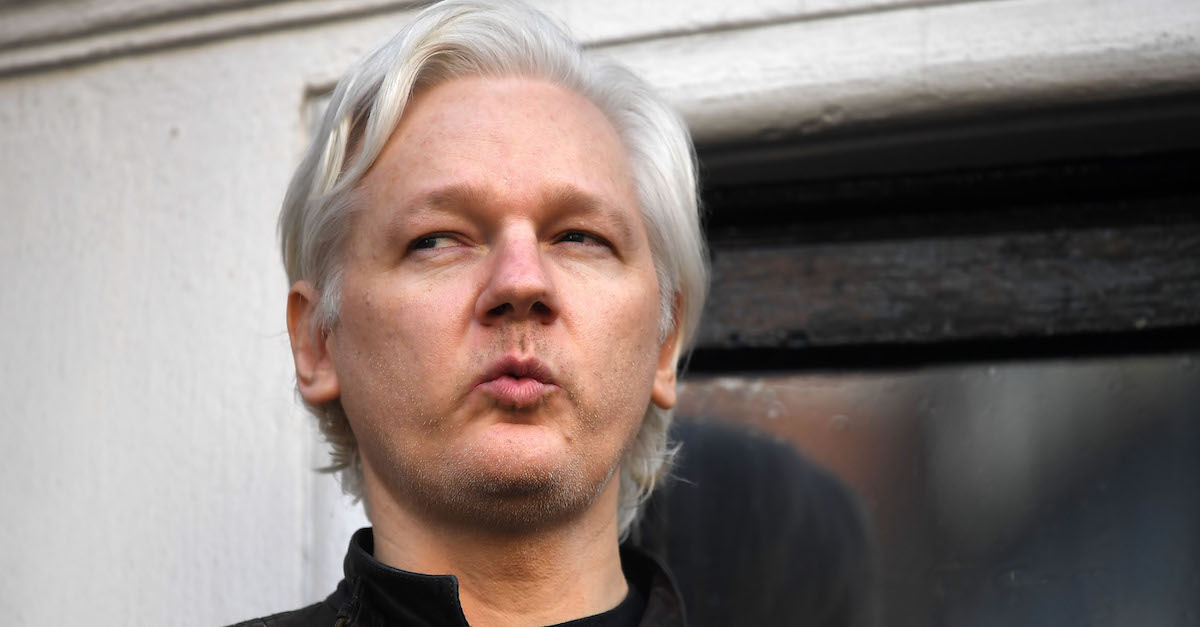 It's been an interesting day for the editors and journalists at The Guardian, as the two subjects of an anonymously sourced "big, if true" story have threatened legal action in response.
First, it was convicted felon Paul Manafort, who, fresh off being accused of lying to FBI multiple times, has unequivocally denied through a spokesman ever meeting WikiLeaks founder Julian Assange or anyone connected to Assange. The Guardian story, um, said otherwise.
The lede of the story:
Donald Trump's former campaign manager Paul Manafort held secret talks with Julian Assange inside the Ecuadorian embassy in London, and visited around the time he joined Trump's campaign, the Guardian has been told.
What's more, the publication said that sources told them Manafort went to visit Assange in 2013, 2015 and the spring of 2016. Well, Assange has responded by starting a GoFundMe campaign. A tweet from the verified WikiLeaks account said that Assange has "instructed his lawyers to sue the Guardian for libel over [the] fabricated Manafort story."
On the GoFundMe, Assange says, "Help WikiLeaks sue The Guardian for fabricating a story that Julian Assange had secret meetings with Paul Manafort."
"The Guardian has claimed, using unnamed sources, that Paul Manafort had 'secret talks' with Julian Assange  in the Ecuadorian Embassy in London on three occasions. These claims are completely false and the story has been fabricated," the campaign adds.
Manafort's denial was featured in the initial story. He called the claim that he met with Assange "100 percent false." Nonetheless, The Guardian published it. The Assange GoFundMe included Paul Manafort's ensuing statement, which went out later Tuesday. Indeed, Manafort denied everything under the sun, while also threatening legal action:
This story is totally false and deliberately libelous. I have never met Julian Assange or anyone connected to him. I have never been contacted by anyone connected to Wikileaks, either directly or indirectly. I have never reached out to Assange or Wikileaks on any matter. We are considering all legal options against the Guardian who proceeded with this story even after being notified by my representatives that it was false.
The Assange GoFundMe maintains that the "Embassy's visitor logs – maintained by Ecuador – show no such visits [from Manafort], since they did not occur." There's also an accusation that The Guardian, and one of the bylines on the story, Luke Harding, have "fabricated a story about Assange" before.
"Bringing legal action in UK courts is extremely expensive," the GoFundMe continues. "WikiLeaks is entirely funded by the public and urgently needs your support. We must hold The Guardian to account: your contribution will help make this lawsuit possible. Please make a donation today."
The Guardian did not immediately respond to Law&Crime's multiple requests for comment, but they have now.
"This story relied on a number of sources. We put these allegations to both Paul Manafort and Julian Assange's representatives prior to publication. Neither responded to deny the visits taking place," a Guardian spokesperson told Law&Crime. "We have since updated the story to reflect their denials."
Editor's note: this story has been updated with The Guardian's statement.
[Image via Justin Tallis/AFP/Getty Images]
Have a tip we should know? [email protected]