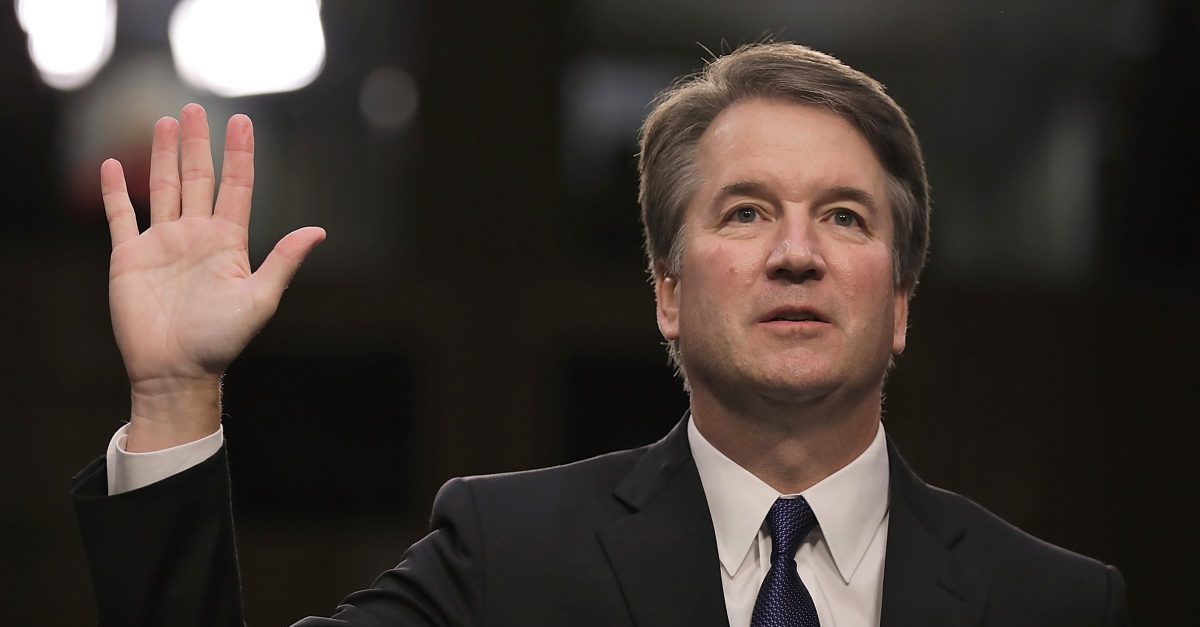 Eighty-three ethics complaints that were filed against now-Supreme Court Justice Brett Kavanaugh and were dismissed are, well, still dismissed. The Judicial Council of the Tenth Circuit dismissed these ethics complaints back in Dec. 2018 on the grounds that they did not not apply to Kavanaugh, as he was "no longer a judge covered by the Act" due to "his elevation to the Supreme Court."
The Judicial Council reaffirmed the dismissal on Friday after reviewing 20 petitions.
The complainants, the Council said, made the following four arguments in their petitions:
(1) the Judicial Council lacked authority to consider the complaints in the first instance; (2) the Judicial Council members should disqualify themselves from considering the petitions for review; (3) the Judicial Council had jurisdiction to decide the merits of the complaints because Justice Kavanaugh was still a circuit judge when he allegedly engaged in misconduct, and because the complaints were filed while Justice Kavanaugh was a circuit judge; and (4) an intervening event did not occur because the allegations are not moot and remedial action remains possible.
The Council said these arguments were not persuasive.
"The Council has considered all other arguments raised in the petitions and finds them unpersuasive," the Friday order said. "Accordingly, the Council denies the petitions for review and reaffirms its determination that an intervening event precluded further review of the complaints by the Judicial Council."
The Council repeated what was said before, namely that Kavanaugh is simply not a "covered judge."
"The Council's jurisdiction is limited by the Act and the Rules," they said. "The Council cannot create jurisdiction where it does not exist. As explained extensively in the underlying Order, a Supreme Court justice is not a covered judge."
As Law&Crime reported in December, Chief Circuit Judge Timothy M. Tymkovich explained that the ethics complaints were dismissed because they didn't "pertain to any conduct in which Justice Kavanaugh engaged in as a judge on the D.C. Court of Appeals."
Tymkovich added that the Judicial Conduct and Disability Act does not apply to Supreme Court justices.
The Act addresses 'complaints' and defines the term 'judge.' With respect to complaints, the Act provides, 'Any person alleging that a judge has engaged in conduct prejudicial to the effective and expeditious administration of the business of the courts, or alleging that such a judge is unable to discharge all the duties of office by reason of mental or physical disability, may file with the clerk of the court of appeals for the circuit a written complaint containing a brief statements of the facts constituting such conduct."  The Act defines the term 'judge' as a 'circuit judge, district judge, bankruptcy judge, or magistrate judge.'
Tymkovich concluded then that while the complaints were "serious," the Judicial Council lacked the authority to do anything about them.
Dismissal of Kavanaugh Ethics Complaints Reaffirmed by Law&Crime on Scribd
[Image via Drew Angerer/Getty Images]
Have a tip we should know? [email protected]