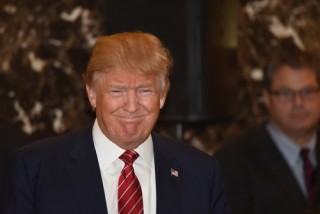 A judge denied a request to unseal case documents which are believed to contain the details of a secret settlement agreement in a lawsuit alleging Trump hired "off the books" Polish workers to demolish a building to make way for Trump Tower.  The case began in 1983. According to press reports at the time, Harry Didduck filed the lawsuit on behalf of his local union. The union workers claimed that they were cheated out of at least $300,000 in contributions to their benefits funds because Trump secretly employed 'undocumented' nonunion Polish workers. In 1999, the court dismissed the class action case with prejudice following an apparent settlement agreement. More than thirty years laters, accusations from the case re-surfaced during the Presidential election.
So in July, attorneys for Time Magazine and the Reporters Committee for Freedom of the Press sent a letter to federal Judge Thomas Griesa asking that all documents in the case be unsealed, including what may be "a written settlement agreement entered into by both parties."
Judge Greisa said that Time "failed to provide specific facts that establish extraordinary circumstances or a compelling need to unseal the documents. Nor have the moments argued that the sealing was improvidently granted in the first instance." He denied the motion.
At the time, Trump said any violations of the agreement were the fault of an" inept demolition contractor." He's also denied knowing that the Polish workers were undocumented. While four documents (including most likely the settlement agreement) remain under seal,  Massimo Calabresi from Time Magazine was able to find thousands of pages of records that were still sitting in a federal warehouse in Missouri. By digging through the records, Calabresi discovered that Trump may have, in fact, known more than he's let on.
"[T]he documents contain testimony Trump sought out the Polish workers when he saw them on another job, instigated the creation of the company that paid them and negotiated the hours they would work," Calabresi wrote for Time. Some of the Polish workers testified that they worked 24-hour shifts, and were paid $4 to $5 an hour. However, as we mentioned, just before the case with the union workers was set to go to trial, Trump settled and the details were apparently sealed.
"Like other lawsuits involving the presumptive Republican presidential nominee, the Hardy case is a matter of substantial public interest and concern. Access to the sealed records in the Hardy case will provide the public with inside into Mr. Trump's request use of the court system," Andrew Lachow, Vice President and Deputy General Counsel for Time Magazine, wrote in a letter to the judge.  However, Friday afternoon, Judge Thomas Griese ordered that the documents remain sealed.  The lead plaintiff in the case, Harry Diduck, has since died. So we may never learn what the settlement agreement entailed.
Have a tip we should know? [email protected]
Rachel Stockman - President / On Air Host