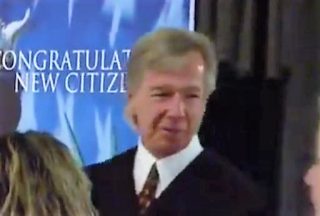 Last week, LawNewz.com reported on a federal judge who told new American citizens that people who can't accept that Donald Trump is President-elect should "go to another country." Well, now he's paying the price.
U.S. Magistrate Judge John Primomo, who had been overseeing citizenship ceremonies since 1989, was suspended from conducting future ones, as of Monday. On Tuesday, the judge announced that he will retire next year.
Judge Primomo had made his remarks during a citizenship ceremony. He said at the time, "I can assure you that whether you voted for him or you did not vote for him, if you are a citizen of the United States, he is your president," and added, "He will be your president and if you do not like that, you need to go to another country." Primomo claimed that he only meant to promote respect for the office of the presidency, and that he didn't even vote for Trump.
This article has been updated to reflect Judge Primomo's retirement announcement.
Alberto Luperon contributed to this report.
[Image via screengrab]
Have a tip we should know? [email protected]