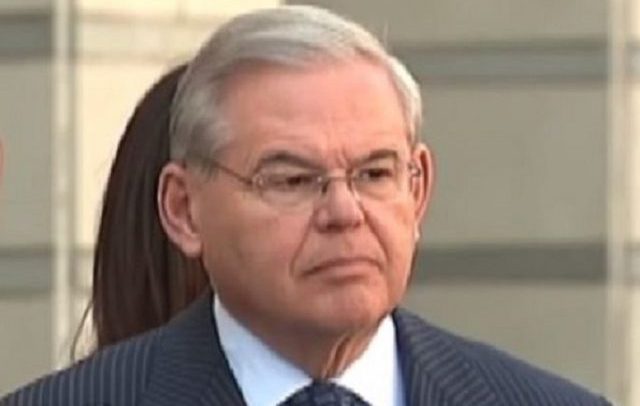 NEWARK, N.J. (AP) — When the government rests its case against U.S. Sen. Bob Menendez, whether it moves forward or is dismissed without the defense having to call a witness will hinge on how the judge interprets a 2016 Supreme Court ruling that already has helped reverse several politicians' corruption convictions.
Menendez is charged with accepting free flights on a private jet and other gifts from a wealthy friend in exchange for pressuring government officials to take actions favorable to the friend's business interests.
He argued in court filings over the summer that the charges should be dropped because they didn't meet a narrower definition of bribery under a 2016 U.S. Supreme Court ruling that reversed the corruption conviction of former Republican Virginia Gov. Bob McDonnell.
U.S. District Judge William Walls said at the time he would wait until the government presented its case before ruling. The trial is in its sixth week, which is roughly how long prosecutors initially estimated they would take.
"The defense was smart," former federal prosecutor Adam Lurie said before the trial began. "That motion helps frame the entire trial for the defense. So while the prosecution is putting on their case, the judge is listening through the lens of the defense motion. The defense was really trying to set the stage for the government's case."
The McDonnell decision has been the 800-pound gorilla in the room during the first six weeks of the trial. Walls acknowledged as much last week during a discussion with attorneys with the jury out of the room.
He noted that some prosecution witnesses had testified that although they may have believed Menendez set up meetings with them to help out Florida eye doctor Salomon Melgen in an $8.9 million Medicare billing dispute and a stalled port security contract, Menendez didn't mentioned Melgen's name during the meetings.
"I am very careful because of you know what, and that being McDonnell," Walls said.
Before the McDonnell ruling, public officials accused of bribery were considered to have taken an official act if the act was "among the official duties or among the settled customary duties or practices of the official charged with bribery." That language came from a 1914 case involving the Commissioner of Indian Affairs.
The Supreme Court narrowed that in McDonnell to define an official act as a decision or action on a "question, matter, cause, suit, proceeding or controversy'" that must involve "a formal exercise of governmental power, and must also be something specific and focused that is pending or may by law be brought before a public official." Setting up a meeting, talking to another official, or organizing an event by themselves aren't official acts, the court ruled.
Prosecutors have presented evidence that Menendez set up the meetings with homeland security officials and health officials during a time when Melgen was donating several hundred thousand dollars to campaign organization that supported Menendez and flying Menendez on his private jet to his villa in the Dominican Republic.
Defense attorneys have argued Menendez used the meetings and other interactions with executive branch officials to discuss Medicare and port security policy issues, and that even if he "encouraged others to take a particular action" those can't be considered official acts under McDonnell.
In recent months, the McDonnell ruling was cited by courts that tossed the convictions of former New York state lawmakers Sheldon Silver and Dean Skelos, and former Democratic Louisiana Congressman William Jefferson.
This article was written by David Porter of the AP.
Have a tip we should know? [email protected]