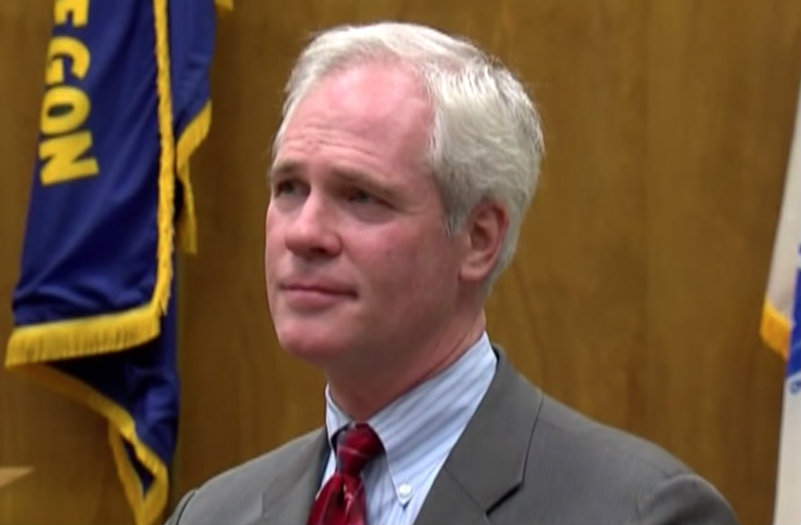 The Oregon Supreme Court ruled Thursday to suspend Judge Vance Day without pay for three years on multiple allegations. The ruling stems from findings and a recommendation from the state Commission on Judicial Fitness and Disability.
The commission said Day told his clerk and judicial assistants to screen couples named in marriage requests to see if they were same-sex relationships. This happened during a transition process in Oregon law, before the 2015 U.S. Supreme Court ruling in Obergefell. The state constitution said marriage was only between a man and a woman, but a federal judge in May 2014 determined this violated the Equal Protection Clause in the 14th Amendment.
"If the JA or clerk determined that the couple was a same-sex couple, then they should call the couple back and say that respondent was not available or they should otherwise provide that information to respondent, so that he could decide how to proceed," the ruling said. "If the couple was an opposite-sex couple, however, then the wedding date should be put on respondent's schedule."
Day eventually stopped officiating marriages altogether.
"The Court's suspension overlooks the fact that during the brief time Judge Day discretely declined to perform same sex marriages, the Oregon Constitution prohibited same sex marriage by referendum of the people, and it wasn't until a year later the U.S. Supreme Court ruled conclusively, determining that the US Constitution prohibits Oregon's ban on same sex marriages," said Day's attorney said in a statement obtained by The Oregonian.
Oregon's ban on same-sex marriages was implemented after a 2004 statewide ballot.
Day is considering whether to appeal his suspension to the U.S. Supreme Court, said the attorney.
Other claims against Day include using his position to intimidate the referee at his son's soccer game, and including a portrait of Adolph Hitler in a "Hall of Heroes" artwork display at the Marion County Courthouse where he worked.
That collage included a painted portrait of Adolf Hitler that had been cut from a frame at the end of World War II by a local veteran serving in Germany. In the collage, the portrait was partially covered by World War II-era photographs, letters, and memorabilia from the veteran, and it was surrounded by photographs of American soldiers during the war, medals awarded to the veteran, and other memorabilia.
The Oregon Supreme Court and commission side-stepped the Hitler thing, and only focused on the claim that Day accepted money from lawyers who appeared before him in court to sponsor veteran-related art in the exhibit. The commission determined wrongdoing happened, but the court disagreed.
Day "neither directly sought out donations nor conveyed any possibility of differential treatment toward lawyers who contributed (or did not contribute)," judges wrote.
The court, however, blasted Day over his alleged treatment of a former Navy SEAL, named in court documents as "BAS." BAS participated in the Veterans Treatment Court after a conviction for driving under the influence of intoxicants, and as part of his plea agreement, faced a lifetime driver's license revocation, and statutorily based prohibition on possessing firearms. Long story short, the VTC helped certain veterans who pleaded guilty reintegrate into society during probation. Officials were known to drive participants to appointments, and the like. (One prosecutor was noted as taking BAS hiking and biking with the defense counsel's permission.)
While Day was earnest in this program was earnest, the court said, he left BAS handle a gun on two occasions. They said Day was well aware that the former SEAL wasn't allowed to hold firearms.
"By affirmatively permitting a VTC participant in his court to handle a gun on two occasions, notwithstanding an applicable firearms prohibition, and in offering assurance that he, as the judge, could adjust that probationary condition, respondent violated those rules as alleged," the court wrote. "His conduct demonstrated to BAS that ordinarily applicable rules may not apply to a judge—and, by extension at the judge's discretion, to a probationer in the judge's court. That conduct undermines, rather than promotes, confidence in the judiciary."
Day is scheduled to face trial in April for two counts of letting a felon hold a gun, and two counts of first-degree official misconduct.
[Screengrab via KOIN]
Have a tip we should know? [email protected]