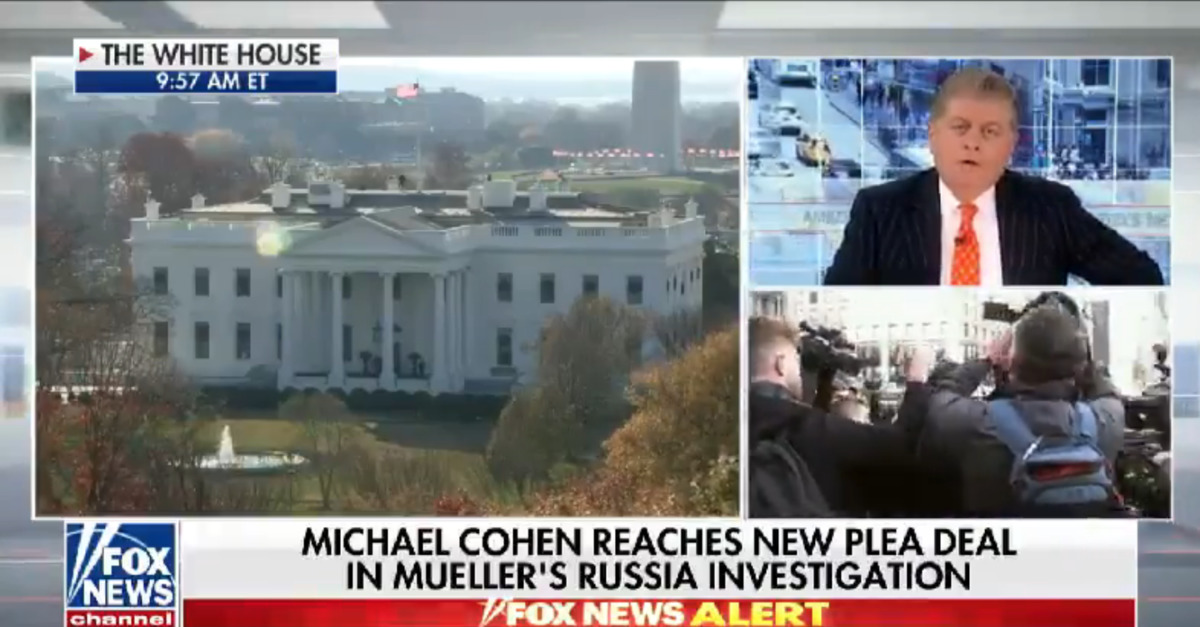 The Michael Cohen guilty plea keeps on trucking towards a total media meltdown as even conservative commentators appear to be getting skittish about the allegations of impropriety leveled against President Donald Trump by his longtime fixer and attorney.
Take, for example, libertarian-inclined former judge Andrew Napolitano, who just so happens to serves as Fox News Channel's senior judicial analyst. During a morning sit-down on America's Newsroom, Napolitano pulled few punches when discussing the 45th president's apparently flailing legal strategy leading up to the Cohen revelations. Cohen pleaded guilty to making false statements to Congress about Trump's real estate matters.
The target of Napolitano's friendly criticism? None other than Trump's lead attorney Rudy Giuliani.
"The strategy of the White House has been to deploy a very very brilliant attorney who's a household name, Rudy Giuliani," Napolitano said, "not only as a lawyer, but as a P.R. person for the president, to create the impression among the public that the indictment or the impeachment of Donald Trump is utterly unacceptable."
Napolitano conceded that Giuliani had done a "very effective job" of selling that idea to Trump's supporters thus far, but then contrasted the constant Giuliani pitch with the gravity of the Cohen allegations.
"Think of the personal sting here," Napolitano said. "Michael Cohen was not only the president's personal lawyer, but his confidante. Michael Cohen once said he would take a bullet for the president. He has now pleaded guilty twice, both times involving the president and both times promised to help people who are trying to bring the president down. This must sting the president terribly."
Napolitano also noted that Mueller's work was likely to extend well into next year due to the ever-increasing number of criminal indictments and guilty pleas resulting from the wide-ranging Russia probe.
"Every time Bob Mueller gets more information like he probably got from Michael Cohen in the past days and weeks which led up to the guilty plea this morning, it creates more work for him to do," Napolitano noted. "He can't just take at face value what Cohen or any witness says, he has to corroborate it by going to the people he says he spoke [with], and looking at emails or other documentary information to confirm or deny what he said."
Napolitano continued:
So this actually extends the obligations of Bob Mueller. And extends well into 2019 the existence of his office and his continued investigation…I don't know where this is gonna go…I don't know what Bob Mueller knows and I don't know how much work they still have ahead of them. But I do know this: he's been going by the book. No leaks, no lies, no exaggeration. Everything he files in court is properly filed and is verified. And these things take time. When you're a prosecutor, you don't always get information in an orderly fashion and you don't always get it from credible witnesses. It takes time to present the information orderly and to verify and confirm the credibility of the witnesses and that's probably what he's doing. What is a surprise to us this morning, this guilty plea by Michael Cohen, is not a surprise to Bob Mueller.
[image via screengrab/Fox News]
Follow Colin Kalmbacher on Twitter: @colinkalmbacher
Have a tip we should know? [email protected]