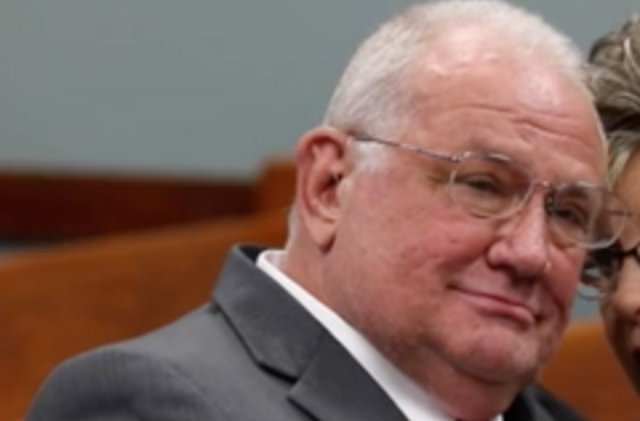 A former judge must stay behind bars after more human trafficking and rape allegations mount.
Kentuckians will probably know Timothy Nolan. He has been a player in local politics and law for decades. The 70-year-old made his mark as a judge in Campbell County in the 1970s and 1980s, more recently serving in the local school district. Nolan even served as county chairman in the Trump presidential campaign.
That all changed with an arrest in April, when police said he had plied an underaged victim with alcohol, and induced her to sexual activity. Then more alleged victims stepped forward. The count rose to 9 in May, and now 12, as of early June. All in all, 2 minors and 10 adults. This has caused Judge Elizabeth Chandler to revoke bond altogether when he was arraigned on new charges, according to a WLWT report. Nolan was considered too potentially dangerous to be released.
Charges include human trafficking of a minor, human trafficking of adults, unlawful transaction of a minor and prostitution, and rape.
He and his lawyer denied all allegations. In a May arraignment, his attorney Margo Grubbs argued that allegations are somehow tied to a defamation lawsuit filed against local Republicans who called him a racist. That separate legal action is pending.
"I would call it a conspiracy," she said, but according to Cincinnati.com, didn't explain how these two cases were connected. "You read the contents and find out. Go to the website and look at what they done to him."
Nolan, by virtue of being a major local figure, presented conflict of interest landmines for the case. For example, daughter Taunya Nolan Jack is the Campbell County circuit court clerk. In a bid to avoid this, the attorney general's office is handling the prosecution, and Judge Chandler has been brought in from Carroll County to preside.
If convicted, the defendant could be sentenced to over 100 years in prison.
[Screengrab via Cincinnati.com]
Have a tip we should know? [email protected]