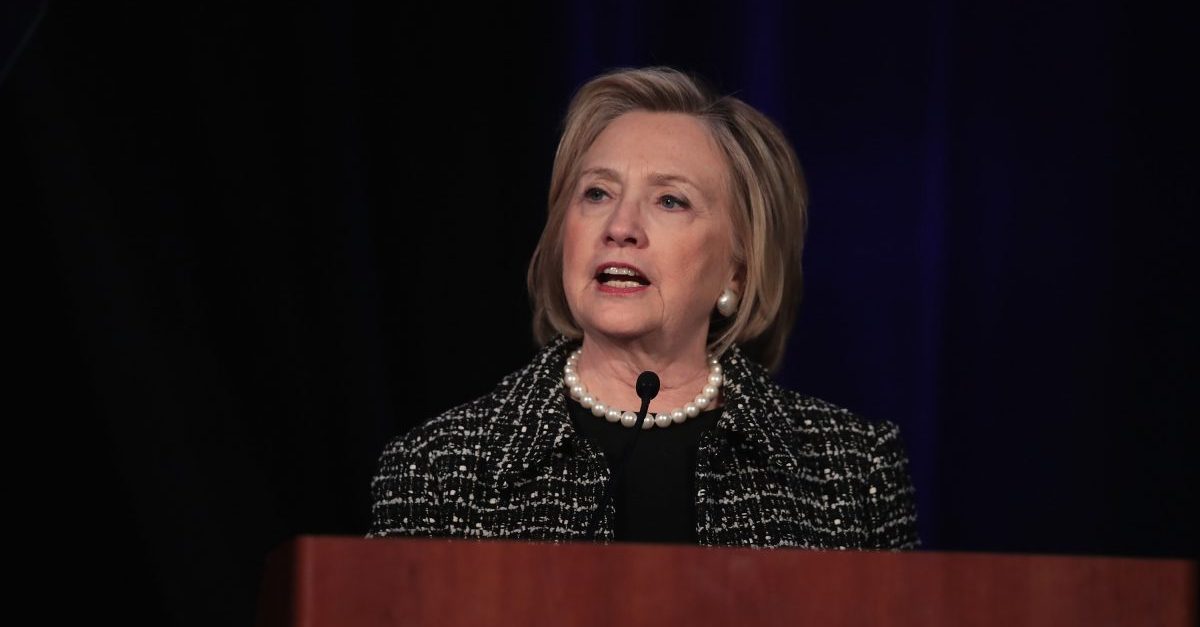 The U.S. Department of Justice (DOJ) claimed they did all they needed to regarding their search for a former official's communications with members of Hillary Clinton's campaign, but a federal judge disagreed. A ruling in a Freedom of Information Act (FOIA) lawsuit brought by watchdog group Judicial Watch stated that the DOJ's declaration that discussed their efforts was "incomplete in several respects."
U.S. District Court Judge Dabney L. Friedric's ruling was the latest step in the FOIA lawsuit, where Judicial Watch is seeking emails between Obama-era DOJ official Peter Kadzik and former Clinton campaign chair John Podesta, emails between Kadzik and other Clinton campaign members, and emails to or from non-government employees that discussed Clinton's use of a non-government email account for official business.
The FOIA lawsuit seeks emails from both Kadzik's government email account and his personal Gmail account. It came after WikiLeaks published emails of Podesta's that included one from Kadzik that appeared to tip him off regarding a House Judicial Committee hearing where they were expected to ask the head of the DOJ's Civil Division about State Department emails.
At a hearing on Wednesday, the court heard arguments over a declaration submitted by DOJ Office of Information Policy Senior Counsel Vanessa R. Brinkmann. Judge Friedric noted that the DOJ's representations regarding Kadzik's emails during the hearing were broader than what Brinkmann said, and that some explanation was needed.
The judge noted, for example, that while the DOJ's attorney said at the hearing that Kadzik said he didn't have any agency records in his Gmail account, Brinkmann's declaration didn't necessarily support this. Brinkmann simply wrote that Kadzik claimed not to have agency records in his Gmail inbox.
Additionally, the judge pointed out that Brinkmann's declaration didn't even cover every aspect of Judicial Watch's FOIA request. While it said that Kadzik denied sending "any other similar e-mails to John Podesta, or to anyone else associated with the Clinton campaign," it failed to address any other emails Kadzik sent or received with his personal account that deal with government business. The declaration also ignored the request for emails sent to or from any other non-government employees regarding Clinton's use of a private email account for government business.
Finally, Judge Freidric noted that the DOJ's declaration was inadequate in its description of how Kadzik supposedly searched for any responsive emails. While they said at the hearing that Kadzik "opened and reviewed" every email, the declaration only said he "performed a manual review (i.e., not using search terms) of the appropriate folders." It doesn't say whether he opened and read each email, merely reviewed subject lines or did something else.
The judge gave the DOJ until June 15 to provide more information.
Law&Crime reached out to the Justice Department for comment, but they have yet to respond.
"We are pleased the court ordered the Justice Department to provide more details about its search for documents about Obama DOJ-Clinton campaign collusion," Judicial Watch president Tom Fitton said in a statement. "It is disappointing we must continually battle the Sessions Justice Department for basic information on corruption in the Obama Justice Department."
[Image via Scott Olson/Getty Images]
Have a tip we should know? [email protected]