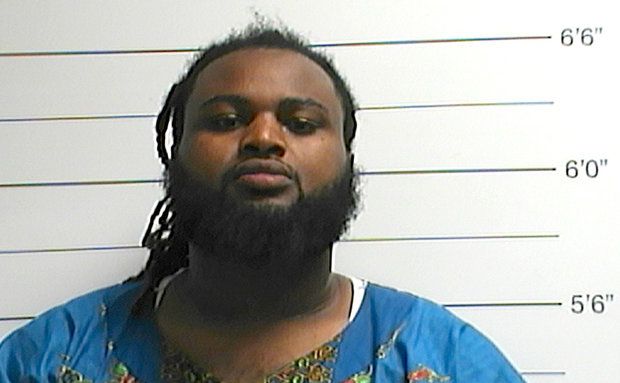 NEW ORLEANS (AP) — A Louisiana judge denied a new trial for the killer of a retired New Orleans Saints star, clearing the way Wednesday for Cardell Hayes to be sentenced to up to 60 years in prison for shooting Will Smith and wounding his wife.
State District Judge Camille Buras rejected numerous defense arguments for a new trial, including the claim of a newly found witness who contradicted all trial evidence by saying he heard more than two weapons fired the night Smith was killed.
The judge said Hayes' formal sentencing would be delayed to at least Friday, but in preparation, she began taking testimony, hearing first from Smith's aunt, who helped raise the Ohio State and NFL football star.
The surprise new witness produced by the defense on Wednesday was Michael Burnside of New Orleans, who took the stand insisting that he heard two different weapons fired during the traffic dispute between Hayes and Smith.
Burnside, who said he's familiar with guns, said he heard "baps" from a smaller weapon, then "booms" from a larger one. "There were four baps before there were eight booms," he said.
Hayes, who killed Smith with repeated shots from his .45-caliber handgun, has insisted that he fired in self-defense, but evidence at trial showed Smith's loaded .9-mm semi-automatic handgun was found unused inside Smith's car.
Appearing in court with wild mane of hair and a bushy beard, Burnside appeared near tears at times and twice let slip a profanity. He acknowledged that he didn't witness the killing, and called himself a "coward" for failing to come forward immediately.
Assistant District Attorney Jason Napoli noted that Burnside — who said he doesn't own a clock or a calendar — couldn't be certain of the time and date of the shooting he heard, and in fact, another shooting had happened in the same area about 45 minutes before Smith was killed.
Napoli also noted the lack of evidence of any other guns being fired — no shell casings from a second gun, and no witnesses, other than Hayes, who indicated a second gun was involved.
"That man is certifiably insane. It is very apparent," he told the judge after Burnside left the stand.
Defense attorney John Fuller sharply criticized that characterization. "Just because people are different from you, doesn't make them liars," he protested.
Hayes appeared to have caught something of a break at his December trial when a jury rejected the prosecution's push for a second-degree murder verdict, which would have meant mandatory life in prison.
But then New Orleans District Attorney Leon Cannizzaro said Hayes, 29, deserves a 60-year sentence: the maximum 40 years for manslaughter in Smith's death, followed by another 20 for attempted manslaughter for wounding Smith's wife, Racquel.
Hayes' sentencing may be pushed to later in the week even if the judge rules out a new trial. A provision in the state criminal code says a sentence cannot be imposed until at least 24 hours after a new trial motion is overruled.
New Orleans Saints coach Sean Payton took a front row seat alongside Smith's family and friends for Wednesday's hearings.
Smith was cast during the trial not only as a football hero — part of the Saints team that lifted the stricken city's spirits after Hurricane Katrina in 2005, and the one that won a Super Bowl in 2010 — but also a beloved community leader who settled in New Orleans after retirement.
The sentencing is likely to echo that drama, including testimony from Racquel Smith about how she and their three children have been affected.
"You'll see a Cliff's Notes version of the trial," predicts Donald "Chick" Foret, a criminal attorney and legal analyst.
Expect the defense to again characterize Hayes, a former semi-pro football player and the owner of a tow truck business, as the affable, loving father to his 6-year-old son. The defense has noted the absence of any serious criminal record and has said Hayes feared for his life when he encountered a drunken, belligerent Smith in a traffic dispute last year.
Jurors heard that Hayes's Hummer had rear-ended Smith's Mercedes SUV that night, shortly after the SUV appeared to have tapped the rear of Hayes's car.
Although prosecutors said Hayes deliberately rammed Smith's vehicle, Hayes insisted he was trying to get Smith's license number when the second crash occurred. The jury appeared to believe Hayes on this point, finding him not guilty of aggravated criminal damage to property.
Hayes said he armed himself only after he and his own passenger were accosted by Smith and Richard Hernandez, a passenger in Smith's Mercedes. He insisted he fired at Smith, hitting him once in the side and seven times in the back, only because he believed Smith had retrieved a gun from the SUV. He insisted on the stand that he heard a "pop" before he started shooting and that he did not shoot at Racquel Smith, who was hit in the legs.
Prosecutors have acknowledged that the former Saint had a high blood-alcohol level after spending a day at the city's annual French Quarter festival and the evening dining and drinking with friends. But they said he did nothing to provoke the shooting.
For all the expected emotion, legal experts say there is little chance Buras will be influenced by either side. She presided over the trial and is familiar with all the issues raised in pre-hearing motions and a pre-sentence report she ordered.
"She's well aware of the facts of the case," said attorney and Loyola University law professor Dane Ciolino. "There's not going to be a whole lot that can be said."
Written by Kevin McGill, Associated Press
Have a tip we should know? [email protected]