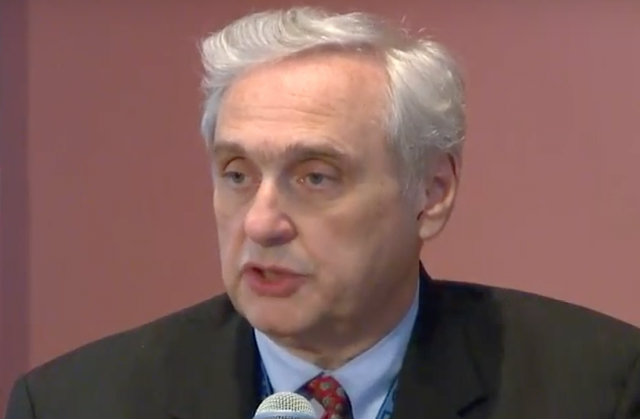 9th Circuit federal appeals judge Alex Kozinski, 67, was publicly accused Friday of sexual misconduct against clerks and externs. One allegation: that he showed one of them porn, and asked her if it turned her on. Six alleged victims made their claims in a Washington Post report. Two went on the record. Four spoke on background for fear of retaliation.
One of the named women, Heidi Bond, said she clerked with Kozinski in 2006 to 2007. Now 41, she said he showed her porn in his office on three instances.
"I was in a state of emotional shock, and what I really wanted to do was be as small as possible and make as few movements as possible and to say as little as possible to get out," she said.
Kozinski would ask if the images turned her on, she claimed. Her alleged answer: "No, this kind of stuff doesn't do anything for me. Is there anything else you need?"
WaPo said it corroborated the story with Bond's friend novelist Eve Ortega. Both women provided emails showing that they discussed the allegation years ago.
The judge denied all claims to the Post.
"I have been a judge for 35 years and during that time have had over 500 employees in my chambers," he said in a statement. "I treat all of my employees as family and work very closely with most of them. I would never intentionally do anything to offend anyone and it is regrettable that a handful have been offended by something I may have said or done."
Emily Murphy, another on-the-record source, said she clerked with Judge Richard Paez at the time. In a group conservation about working out, Kozinski said she should exercise naked. WaPo said they corroborated the story with two sources present for the conservation.
"It wasn't just clear that he was imagining me naked, he was trying to invite other people–my professional colleagues–to do so as well," Murphy said. "That was what was humiliating about it."
Another Kozinski clerk said on background that he showed her porn. Allegations by other sources include inappropriate sexual conversations.
"I didn't want to be alone with him," a former extern said.
Dozens of former clerks and externs said the judge never harassed them.
[Screengrab via NC Channel]
Have a tip we should know? [email protected]