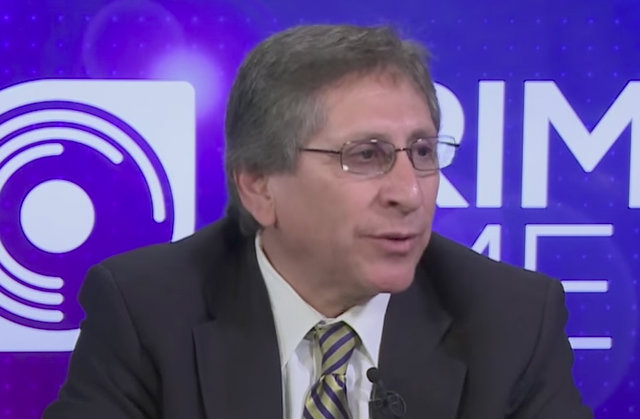 The man who sent Jodi Arias behind bars faces another allegation of professional misconduct. Deputy Maricopa County Attorney Juan Martinez is accused of having an affair with a blogger covering the trial, said an ethics complaint filed with the State Bar of Arizona on Arias' behalf.
The complaint, confirmed by 12 News, said that he had improper relationships that might have affected the case. According to a sheriff's office report obtained by the outlet, one of these was an affair with former Trial Divas blogger Jen Wood. The State Bar of Arizona is investigating.
This isn't Martinez's first misconduct allegation. The Bar slammed him with professional probation in September 2016. Officials claimed he misused his authority as prosecutor, "engaging in unprofessional conduct," "engaging in professional misconduct that is prejudicial to the administration of justice," and improperly attacking a defendant.
This new complaint zeroes in on his conduct outside the courtroom. According to freelance reporter Tammy Rose, Wood told her all about it.
"She told me this shocking secret that I was–I was so shocked when she told me–that she said she was having an affair with Juan Martinez," Rose told the outlet from her Wisconsin home.
She told a sheriff's deputy that she was getting harassing text messages and phone calls, according to an incident report from the Sheboygan County, Wisconsin, Sheriff's Department. Rose didn't know who was behind the harassment, but she told the official about Wood's alleged relationship with the prosecutor.
Martinez's attorney denied the misconduct allegation.
"Mr. Martinez prosecuted Jodi Arias in compliance with lawyers' rules of professional conduct," lawyer J. Scott Rhodes told the outlet. "The Arias allegations consist of rumor and innuendo spread by a convicted murderer trying to seek revenge against the public servant who put her behind bars for the rest of her natural life. They do not warrant any attention at all."
The 12 News story wasn't clear on how Arias supposedly knew about the alleged relationship, and the article only identified Rose's claim. LawNewz.com has reached out to Rhodes and the State Bar of Arizona for comment.
Martinez's attorney got back to us, but couldn't offer much.
"The bar charge was submitted to the State Bar of Arizona by attorney Karen Clark on behalf of her client, Jodi Arias," Rhodes told LawNewz.com. "Arias is the Complainant in the matter. The State Bar's investigation is confidential under the applicable Rules of the Arizona Supreme Court; therefore, I will not comment on its substance or our response."
As for the State Bar, Chief Communications Officer Rick DeBruhl explained that they can't say much about this either.
"Unfortunately, by court rule all we can do is confirm that a charge has been filed against Mr. Martinez for actions which may have occurred during the Jodi Arias trial," he told LawNewz.com. "We cannot at this time provide a copy of the complaint. We also can't comment on the range of sanctions that are possible."
LawNewz.com has reached out to Clark for comment.
Woods and a second woman denied allegations, according to a Bar letter obtained by the outlet. LawNewz.com has also reached out to her for comment. 12 News did not identify the other woman because they couldn't independently confirm details of the allegation pertaining to her.
In any case, Woods' professional life has already changed. Her partner on Trial Divas, Sharee Ruiz, split the business because of concerns about contact with Martinez.
The investigation remains ongoing.
Martinez became famous nationwide for his aggressive prosecution of Arias. He got her sent to prison for good in the brutal 2008 murder of ex-boyfriend Travis Alexander.
Update – July 1, 2017, 12:48 p.m.: Rhodes responded to our request for comment. LawNewz.com reached out to Clark for comment.
July 3, 2017, 5:47 p.m. EST: The story was updated with comment from DeBruhl. He also pointed out an unintentional misstatement from the pervious version of the article, which said, "The Bar's investigation, confirmed by 12 News, said that he had improper relationships that might have affected the case." Not so. Instead, Arias' attorney filed a complaint, and the State Bar is investigating. This article has been changed to correct the misstatement.
As DeBruhl said:
The State Bar of Arizona is looking into allegations that Mr. Martinez may have acted improperly. The Bar's investigation does not "…say that he had improper relationships…" In any investigation the State Bar looks into a charge. That investigation does not mean that there is a presumption that the charge is correct. In many cases charges are dismissed after investigation. In some cases, the charge results in a sanction.
[Screengrab via TheLipTV]
Have a tip we should know? [email protected]