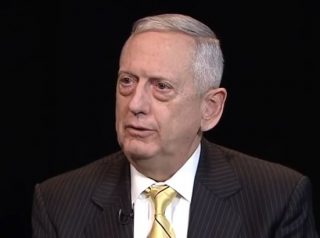 President-elect Donald Trump announced on Thursday that he will nominate retired Marine General James Mattis as his Secretary of Defense. Mattis served his country in the Persian Gulf War, as well as the more recent wars in Iraq and Afghanistan. He retired in 2013, which poses a problem if he wants to head the DoD.
Federal law dictates that in order to serve as Secretary of Defense, a person has to be a civilian, and "may not be appointed as Secretary of Defense within seven years after relief from active duty." Since Mattis only retired three years ago, he wouldn't be qualified under the statute.
However, there is a way around this, and it's been done before. As Dan Lamothe of The Washington Post noted, Congress can pass legislation to get around the statute. They did this in 1950, when General George C. Marshall became Secretary of Defense, despite having been Army Chief of Staff until 1947. Congress passed legislation at the time in order to allow Marshall to take the job, but specifically said, "the authority granted by this Act is not to be construed as approval by the Congress of continuing appointments of military men in the office of Secretary of Defense in the future."
With cabinet nominations ultimately subject to confirmation by the Senate, Mattis would need strong Congressional support in order to hold the position.
[Image via Wall Street Journal screengrab]
Have a tip we should know? [email protected]