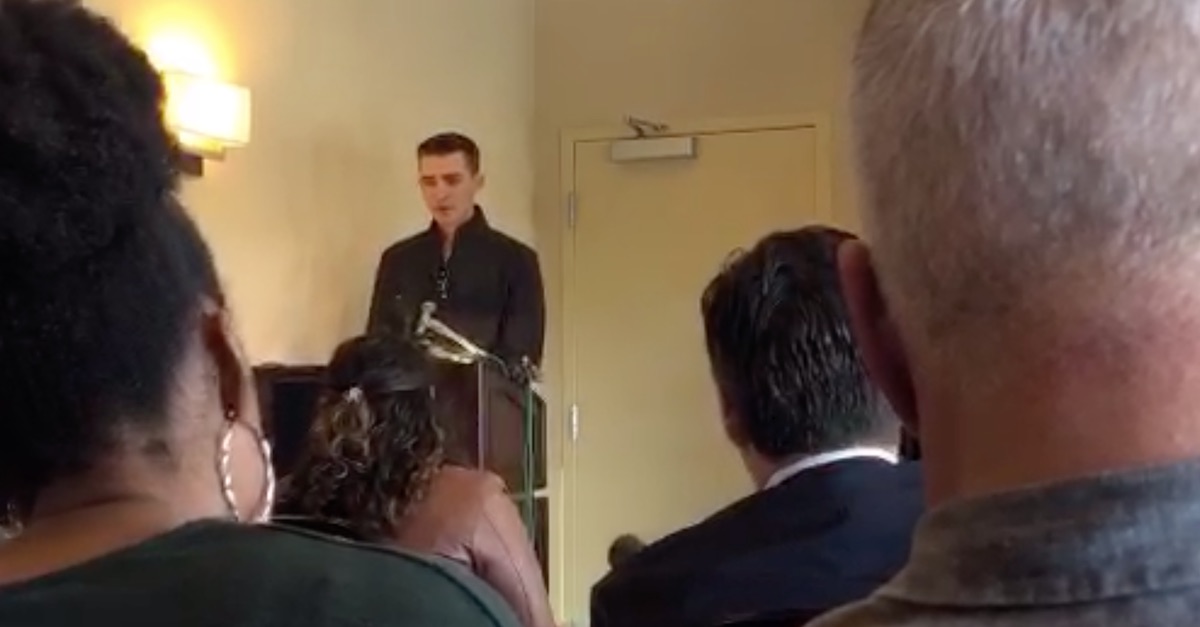 It just gets worse and worse for Jacob Wohl.
The right-wing Twitter personality who was easily found to be a primary source of the alleged false sexual assault plot against special counsel Robert Mueller has now been accused of tricking a woman "desperate" to find her stolen truck to pay more than $1,000 to his "intelligence firm" Surefire Intelligence, the Daily Beast reported Friday afternoon.
In case you missed it somehow, Surefire Intelligence, which billed itself as a "private intel agency that designs and executes bespoke solutions for businesses and individuals who face complex challenges," was comically exposed this week as a Jacob Wohl operation.
On the same day accusations were published on the right-wing fringe site Gateway Pundit (by Wohl), it was revealed that this private investigation firm, Surefire Intelligence, was investigating claims of sexual assault against Robert Mueller. Wohl denied being involved with Surefire Intelligence, but it was eventually discovered that an email address with Wohl's name on it ([email protected] ) was linked to the domain registration of Surefire Intelligence. Additionally, profiles for purported employees of the firm were transparently fictitious. Managing partner "Matthew Cohen's" profile featured a picture that was quickly found to be a photo of Wohl.
Most comically, reverse image searches revealed that other profiles contained photos that were just edited images of famous people, Israeli supermodel Bar Refaeli and Hollywood star Christoph Waltz included. Aric Toler wrote the most comprehensive story on how Surefire Intelligence was traced to Wohl. Then there was the detail that the phone number listed on the Surefire Intelligence website redirected to voicemail — Wohl's mom's voicemail.
The reaction to this, and a press conference that will be not soon be forgotten, was such that even the far-right website Gateway Pundit website parted ways with Wohl.
In any case, "Matthew Cohen" makes another appearance in the Daily Beast story.
It's alleged that Julienne Adams, a 35-year-old formerly homeless woman who lived out of a Hummer for two years, looked around online for help after her truck was stolen and stumbled upon, you guessed it, Surefire Intelligence. She said she believed the website to be legitimate, saw people praise the "intelligence agency" on Medium.com and "ponied up $1,200 for Surefire's services."
Adams said that she spoke with "Matthew Cohen" and was told there was a good chance she'd get "tens of thousands of dollars from the man whom Adams accused of stealing her Hummer."
"I was looking for a paralegal to help me with some court documents at the time on Craigslist, the legal services section, and I came across an ad that said 'have you been scammed? Do you need a private investigator?'" she said. "So I'm like, well, yes I do!"
She set up a meeting with "Cohen," but he didn't show up. He had promised to help, saying, "This is exactly what we do." Adams said that she wired "Cohen" $1,200 and even signed a retainer agreement. That agreement was signed as "Matthew Cohen."
Eventually, Adams said, she saw the news and online exposure of Surefire Intelligence as a farce.
Now questions are being raised as to whether Wohl could face charges, whether for operating a private investigation firm without a license or for fraud. Adams has also threatened to press charges.
Wohl claimed that Adams was actually the person scamming someone else.
"She hired us to look into her 'stolen hummer,'" he told the Daily Beast. "We looked into it and found that she had actually SOLD the hummer to this guy and was trying to rip him off. Nonetheless, we offered her a refund, which she declined to take."
Adams replied that Wohl is a "fraud."
UPDATE, Nov. 15: A man named "Mike Wilcox," who identifies himself as Head of Public Relations at Surefire Intelligence, has reached out to Law&Crime to say that Jacob Wohl "did not 'trick' a woman into paying him $1000 to find her truck." 
"The woman [Julienne Adams] entered into a comprehensive contract to attempt to retrieve a truck, that she did not own. Jacob did not know that she had actually sold the truck to her estranged husband, and she was simply upset that she let it go and wanted it back. She failed to tell Jacob this. Jacob discovered this fact when he confronted the husband who had a lawful title to the truck," Wilcox claimed. "The contract had an explicit disclaimer that there was no guarantee that the truck could or would be recovered, only that all reasonable efforts would be made. But since she had sold the truck to her husband and he was in legal possession of the same, Jacob had no means legal or otherwise to return the truck to his client."
Wilcox claimed that Wohl never published accusations against Mueller on Gateway Pundit, though a past Gateway Pundit editor's note from the story in question indicated that was likely.
"That was authored by Jacob Wohl himself. Under most circumstances we allow our writers, based all over the world, to post their stories directly to the website," the note said, in part.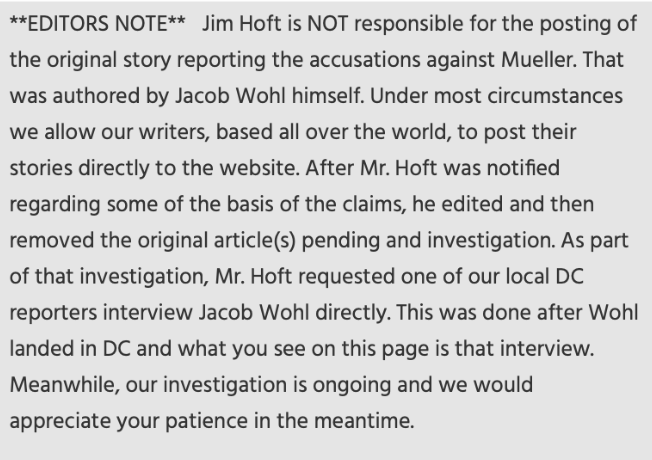 Wilcox also claimed that Surefire Intelligence had nothing to do with the creation of fictitious employee LinkedIn profiles referenced above.
"Surefire did not create them and had no knowledge of them until we read about them in news reports," he claimed. "And so we certainly are not responsible for the content or the fictitious profiles with celebrity avatars. There's zero connection of this hoax with Surefire and we deny having anything to do with it."
Wilcox further disputed a detail about the phone number redirecting to Wohl's mother's voicemail.
"Jacob NEVER had his personal email listed on the website. While it is true that his personal cell phone is on a family plan, and may have been redirected to his mother's phone, that number or any number on the family plan was never listed on the website," Wilcox claimed.
Wilcox further claimed that Adams lied to Wohl and "never [told] him that she had sold the Hummer to her husband long before, and was simply scorned, and wanted retribution for other marital affairs." 
Finally, Wilcox said, Adams "employed Jacob hoping to intimidate her husband."
"Jacob had no idea that this was her intent. So let's be clear, and this is easily verified, the Hummer was not stolen, she no longer owned it, as she sold it to her husband," he claimed. "The woman was belligerent when Jacob told her that he could not retrieve the car, for obvious reasons. The matter was settled after Jacob performed his research as specified in the contract."
"The woman would not let it go, she wanted reribution regardless of whether it had merit or not. She harassed Jacob for months, until he finally gave her a refund plus 30% to make the matter go away, yet she was not satisfied with that. She is now threatening to blackmail Jacob for some unknown and outrageous claims based on this occurrence," Wilcox added.
Editor's note: this article was updated after publication with Mike Wilcox's response. 
[Image via Twitter screengrab]
Have a tip we should know? [email protected]