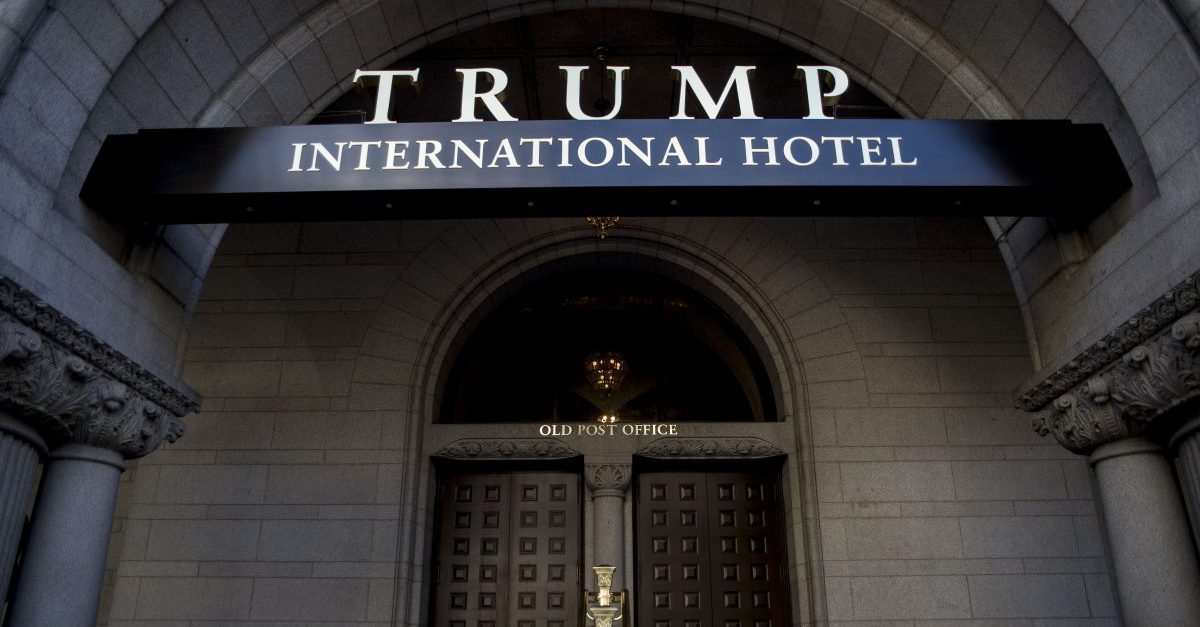 Mobile communications provider T-Mobile acknowledged to Congress that while they had barely used the Trump International Hotel in Washington, D.C. prior to their announcement of a deal to merge with Sprint, this changed significantly after the deal was made. This garnered attention, given that the proposed merger between the competitors has to be approved by the Trump administration.
According to the Washington Post,  T-Mobile USA's vice president of federal legislative affairs Anthony Russo provided details of this in a letter to Sen. Elizabeth Warren (D-Mass.) and Rep. Pramila Jayapal (D-Wash.). Before announcing the Sprint merger, T-Mobile had barely used the Trump hotel in D.C. at all. Two different executives had spent one night there each in 2017.
Since the April 29, 2018 announcement, the company's executives had made reservations for at least 52 nights at the hotel, including from nine executives the day after the announcement was made.
Russo's letter said that the company spent roughly $195,000 on "meeting space, catering, business center services, audio/visual equipment rental [and] lodging."
This amount is only 14% of what the company spent on hotels in the area during that time frame, but it was enough for Democrats to take notice and voice concerns, since Trump administration officials (specifically those in the Federal Communications Commission and the Department of Justice's antitrust division) are currently reviewing the T-Mobile-Sprint deal before deciding whether or not to approve it. If it goes through, it would reduce the already small number of options when it comes to major cell service providers in the country.
"The American people deserve better than an administration that appears to be for sale to businesses eager to line the President's pockets," Warren and Jayapal said in a joint statement.
The Trump hotel has been at the center of concerns and even lawsuits based on allegations that it has been used as a means for various parties to curry favor with the president. Whether the T-Mobile expenditures violate the foreign Emoluments Clause of the Constitution could become an issue, as the German government owns a minority stake in Deutsche Telekom AG, of which T-Mobile is a subsidiary. Either way, it has raised suspicion of a more commonly known offense.
"It's almost like they're …. what's the word I'm looking for… bribing him," national security attorney Bradley P. Moss said in a Tuesday morning tweet. Moss elaborated in an email to Law&Crime, where he noted that even if courts rule that such use of Trump's businesses is legal, the situation presents a question of ethics unlike anything the country has seen before.
"It remains an enduring part of the Trump presidential experience that domestic corporations and foreign governments have continued to suddenly decide to significantly increase the amount of time and money they spend at Trump properties," Moss said. "Whether it is ultimately deemed unlawful as a constitutional or statutory matter is a matter for the courts to resolve, but it is a moral and ethical problem without modern precedent."
Note: This article has been updated to note that a minority share of Deutsche Telekom AG is owned by the German government.
[Image via Gabriella Demczuk/Getty Images]
Have a tip we should know? [email protected]