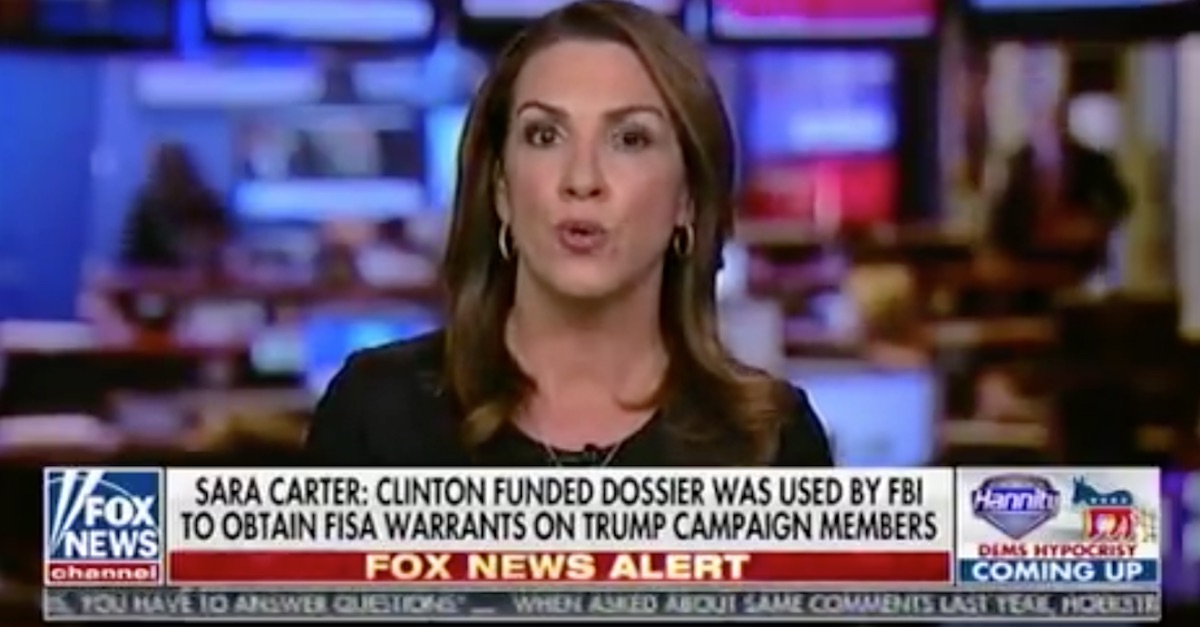 Fox News contributor Sarah Carter, who published a story on her website Tuesday afternoon headlined "BOMBSHELL: Secret TEXTS Show FBI, DOJ May Have RUSHED Anti-Trump FISA Warrant," may not have the "bombshell" scoop she claims.
In her opening lines, Carter, citing unnamed congressional investigators, says that texts exchanged between FBI Special Agent Peter Strzok and FBI lawyer Lisa Page indicate that the "FBI may have improperly coordinated with Department of Justice officials in an effort to pressure those officials to expedite a Foreign Intelligence Surveillance Warrant on a former volunteer [Carter Page] with the President Trump's campaign."
Carter goes on to quote the anonymous congressional investigator that "Everything here—from the texts complaining about FISA delays to the exchanges indicating coordination, to the White House visitor logs—seems to match to a disturbing degree."
"At best, it's a strange coincidence worth investigating further—but it's likely much more," the source continues, "Congress has to take this information seriously if we hope to restore Americans' trust in our federal justice system."
Problem 1: Saying that the FBI and DOJ may have improperly coordinated on a FISA warrant and "rushed" it because Strzok sent frustrated texts about an investigation.
The FBI actually must "coordinate" with the DOJ before a FISA warrant goes to the Federal Intelligence Surveillance Court (FISC), where all such applications go for approval (this will be mentioned again in a moment).
From the Director of National Intelligence website (see page 6 of the document) on the FISA process regarding U.S. persons such as Carter Page:
Besides U.S. citizens, the definition of U.S. person includes permanent resident aliens, U.S. companies that are incorporated, and unincorporated associations for which the majority of members are U.S. citizens or lawful permanent residents. Therefore, any target that is a U.S. person has specific FISA protections. For example, all justifications for a proposed U.S. person target must be extensively and thoroughly reviewed by numerous lawyers, supervisors, and senior executive management at the FBI, including by the FBI Director or Deputy Director. The application is then reviewed multiple times at DOJ, including by the Attorney General, Deputy Attorney General, or Assistant Attorney General for National Security, before even being submitted to the FISC for its review and approval.
That there was a text complaint (from March 2016) about a delay in an investigation sent from Strzok to Lisa Page — "I am getting aggravated at Laufman," that is, former DOJ prosecutor David Laufman — does not necessarily mean something improper occurred later on (there's more on this Strzok-Laufman connection down below).
Brad Heath, investigative reporter for USA Today, said on Twitter that complaining about DOJ delays is something "basically every federal agent does."
Also, it's not clear to me why an FBI agent complaining about a delay indicates that anything was being rushed. Complaining about DOJ delays in getting surveillance orders – even routine Title III's – is a thing basically every federal agent does.

— Brad Heath (@bradheath) April 3, 2018
Problems 2 and 3: Carter initially reported, based on what her source said that approval for "several" FISA warrants were issued through the Eastern District of Virginia (EDVA), then she deleted a quote from her source and unwittingly called into question the expertise of her source(s).
As a couple of attorneys and reporters in the know on Twitter immediately pointed out, and as we were getting to earlier here, only the Foreign Intelligence Surveillance Court (FISC) in Washington D.C. approves FISA warrants. Judges from Eastern District of Virginia do not.
Both @joshgerstein — https://t.co/jgCQd7fBy8 — and @gabrielmalor — https://t.co/F9bveDGJiO — are raising obvious questions about a claimed "BOMBSHELL" report from @SaraCarterDC.

— Chris Geidner (@chrisgeidner) April 3, 2018
I see this getting bounced around, but note that it gets key facts about the FISC dead wrong.

For example, it claims the Eastern District of Virginia court "had issued several FISAs."

First, that's grammatically wrong. Second, only the FISC in D.C. issues FISA warrants. https://t.co/wyLVw2KKOr

— Gabriel Malor (@gabrielmalor) April 3, 2018
BTW, the basic knowledge that only the FISC in D.C. issues FISA warrants entirely undercuts the "bombshell" premise of the piece, which is that "FBI May Have RUSHED Anti-Trump FISA Warrant" at the EDVA. https://t.co/ljAapUhZ0W

— Gabriel Malor (@gabrielmalor) April 3, 2018
FISA warrants have to come from FISC, which is in DC. Possible FBI thought EDVA prosecutors were slowwalking something. We know Flynn and other things came out of Alexandria, but I don't see role of EDVA court in FISA. https://t.co/NtewzI6q3G

— Josh Gerstein (@joshgerstein) April 3, 2018
This is a basic error and one that Carter later corrected, but not without affecting her story in a different way.
This quote from a source has been removed from the story: "Given the EDVA's role in issuing FISAs this exchange raises concerns about FBI agents pressuring the courts on issuing FISA warrants on their behalf."
This is the correction that now appears at the bottom of the article:

So the congressional investigator source is big enough to take down the FBI and DOJ, but small enough to not know how and where FISA warrants, the subject of Carter's story, are issued?
Problem 4: A DOJ spokesperson has already said that one of the main Strzok complaint texts used to prove the Carter Page warrant was rushed isn't related to anything pertinent.
This story quotes a Peter Strozk text as saying he was told "EDVA is/was the delay" on a Carter Page warrant. The text isn't public, but a DOJ spox told us the text is not related to the special counsel probe (or Hillary/either campaign/the election)https://t.co/edMFNyom2K

— Zoe Tillman (@ZoeTillman) April 3, 2018
Some pretty significant, direct DOJ pushback on this story —> https://t.co/HYLPQVC2xm

— Chris Geidner (@chrisgeidner) April 3, 2018
In a text message from September 2016, Strzok complains that the aforementioned Laufman told him the "EDVA is/was the delay" on an application.
An application for what? The DOJ told Buzzfeed's court and justice reporter Zoe Tillman the text was about nothing related to "the special counsel probe (or Hillary/either campaign/the election)."
[Image via MSNBC screengrab]
Have a tip we should know? [email protected]