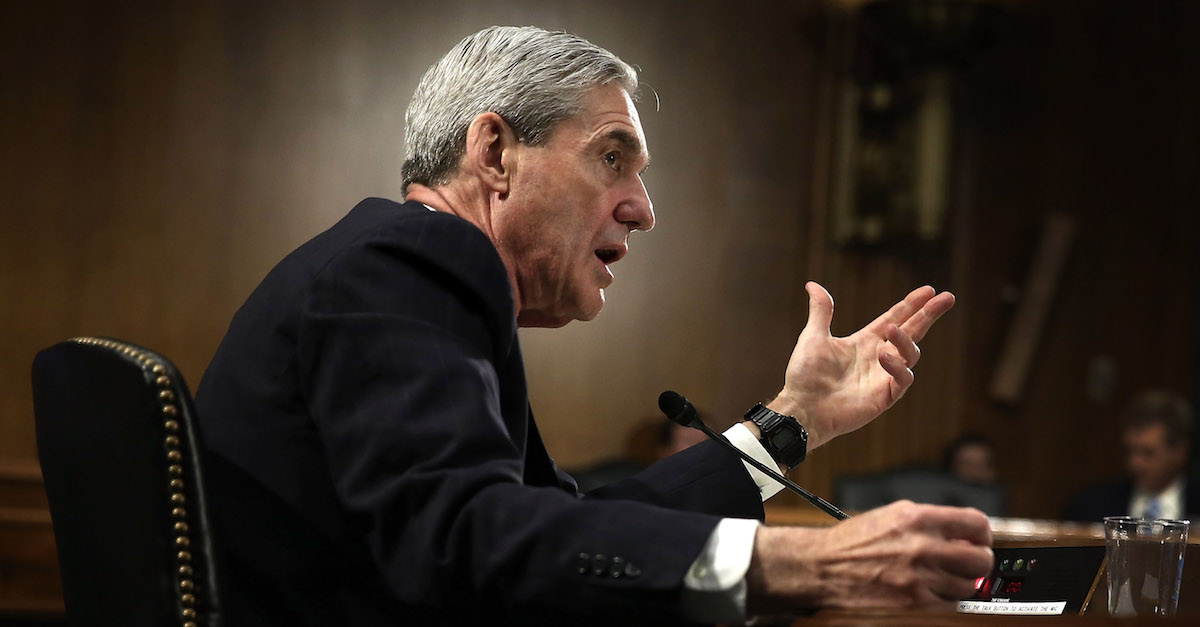 Special Counsel Robert Mueller has submitted his required confidential report to Attorney General William Barr, did not allege a grand conspiracy between Donald Trump/Trump's campaign and Russia, did not exonerate Trump of obstruction, and did not announce new indictments.
All we have to do now is play the waiting game and see what is released to the public, right? Not necessarily, because even if Mueller's core work — any links between the Trump campaign and Russia, crimes that arise along the way — is over, some loose ends are in the process of being tied. There was some buzz earlier Wednesday on Twitter after news dropped that Mueller's grand jury was still kicking.
Federal prosecutor David Goodhand said during a hearing when discussing the unsealing of Mueller filings that the Mueller grand jury was "continuing robustly." This resulted in some "wuts" and "???s."
https://twitter.com/TalKopan/status/1110946530591232007
The context of the hearing before U.S. District Court, Beryl Howell, the federal judge who slapped Mueller's mystery opponent (a foreign company owned by a foreign country that has resisted a Mueller subpoena and racked up hundreds of thousands in fines) with sanctions, was a discussion about what documents in the case should and shouldn't go public, and why.
Goodhand mentioned that the grand jury's work is ongoing and his use of the word "robust" raised eyebrows in a familiar way.
The long and short of it is, the mystery Mueller opponent dispute is ongoing, as that company continues to resist a subpoena before the grand jury that people are surprised is active. The case against accused Russian troll farm Concord Management and the case against Roger Stone—which is anticipated to go to trial on November 5—aren't over either. Former Stone aide Andrew Miller, who also resisted a subpoena, is also in limbo.
One attorney told Law&Crime that it was "odd" that Mueller would submit his report before the Stone prosecution was over and "perplexing" that he would do so while the grand jury subpoena was still being resisted.
According to William Barr, Mueller doesn't have any more indictments under seal and there was no conspiracy, so it leads one to wonder how much these loose ends will end up mattering when discussing Mueller's investigation down the line. Right now, it seems safe to say that these matters may have to do with Russian interference attempts or crimes arising over the course of Mueller's investigation, rather than a collusion or Trump-related matter.
It's also possible that Mueller will simply be handing off these cases to the Department of Justice and the same grand jury will be used for those matters.
[Image via Alex Wong/Getty Images]
Have a tip we should know? [email protected]