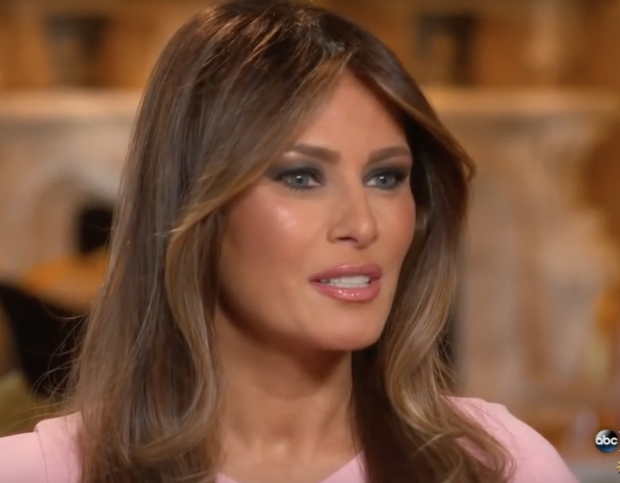 First Lady Melania Trump's high profile legal feuds against several blogs and newspapers are no secret.  She has filed and refiled a defamation lawsuit several times now over a story from the The Daily Mail in August that claimed she once worked as a high-end escort.  Just Monday, she refiled her case against the tabloid in a New York court, after it was kicked out of a Marlyand court for jurisdictional reasons. And this time, her lawyers had a unique take on the damage Melania suffered from The Daily Mail's story.
According to the New York Post, in the new lawsuit, Trump's lawyer actually argued that the escort claim, made against the now First-Lady, possibly destroyed her "once in a lifetime" chance to essentially continue building her business empire from the East Wing of the White House.
"Plaintiff had the unique, once-in-a-lifetime opportunity, as an extremely famous and well-known person…to launch a broad-based commercial brand in multiple product categories, each of which could have garnered multi-million dollar business relationships for a multi-year term during which plaintiff is one of the most photographed women in the world," the lawsuit filed in Manhattan says.
The lawsuit alleges the potential loss of business for Melania is estimated to be upwards of $150 million.
The lawsuit goes on to stress emphatically that the allegations of prostitution are "completely false" and Melania never worked in the "sex business." The Daily Mail issued a retraction and apology shortly after the article was published, but Trump sued anyway.
Trump's new lawsuit further states that "Mail Online's conduct was extreme and outrageous in falsely making the scurrilous charge that the future First Lady of the United States worked as a prostitute." On Tuesday, her attorney announced the Maryland blogger who wrote a similar story agreed to settle with Melania Trump for "a substantial sum" after she sued him as well.
The lawsuit was filed Monday by attorney Charles Harder, who recently won Hulk Hogan an enormous verdict against Gawker and two of its main employees for invasion of privacy.
Harder has also previously represented the First Lady in other legal action taken on her behalf over the past few months.
"The First Lady has no intention of using her position for profit and will not do so," Attorney Charles Harder told LawNewz.com. "It is not a possibility. Any statements to the contrary are being misinterpreted."
Editor's Note:  This article was updated to include a statement from Melania Trump's attorney Charles Harder.  
[image via screegrab]
Have a tip we should know? [email protected]