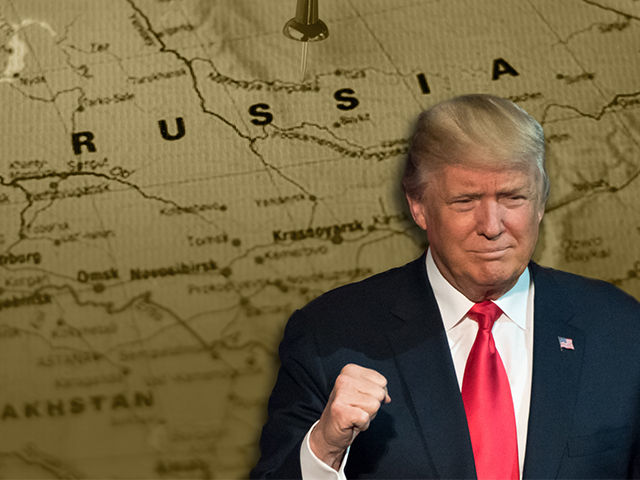 In a meandering and quite frankly bizarre interview with The New York Times at Mar-a-Lago Resort in West Palm Peach, President Trump drops the words "no collusion" 16 times during a 30 minute time span.
In general, he used the word "collusion" 23 times in his effort to dispel and minimize Robert Mueller's probe into alleged ties between the Trump team and the Russian government. During the Thursday evening interview, Trump said that he believes Mueller will treat him fairly (contradicting many conservatives), but also said that the investigation "makes the country look very bad, and it puts the country in a very bad position."
His word record for insisting that his team had "no collusion" with the Russian government came about mid-way through the interview with the Times' Michael S. Schmidt where in one answer he insisted that there was "no collusion" five separate times. Here is the excerpt:
TRUMP: For purposes of the Justice Department, I watched Alan Dershowitz the other day, who by the way, says I, says this is a ridiculous —

SCHMIDT: He's been very good to you.

TRUMP: He's been amazing. And he's a liberal Democrat. I don't know him. He's a liberal Democrat. I watched Alan Dershowitz the other day, he said, No. 1, there is no collusion, No. 2, collusion is not a crime, but even if it was a crime, there was no collusion. And he said that very strongly. He said there was no collusion. And he has studied this thing very closely. I've seen him a number of times. There is no collusion, and even if there was, it's not a crime. But there's no collusion. I don't even say [inaudible]. I don't even go that far. [emphasis added]
For the record, Dershowitz is not a member of Mueller's team, and does not have access to all of the intelligence that the FBI and DOJ has.  Trump is right technically that "collusion" is not a federal crime, but that doesn't mean that any coordination or "collusion" between the Trump campaign and Kremlin is of no criminal interest.
Have a tip we should know? [email protected]
Rachel Stockman - President / On Air Host