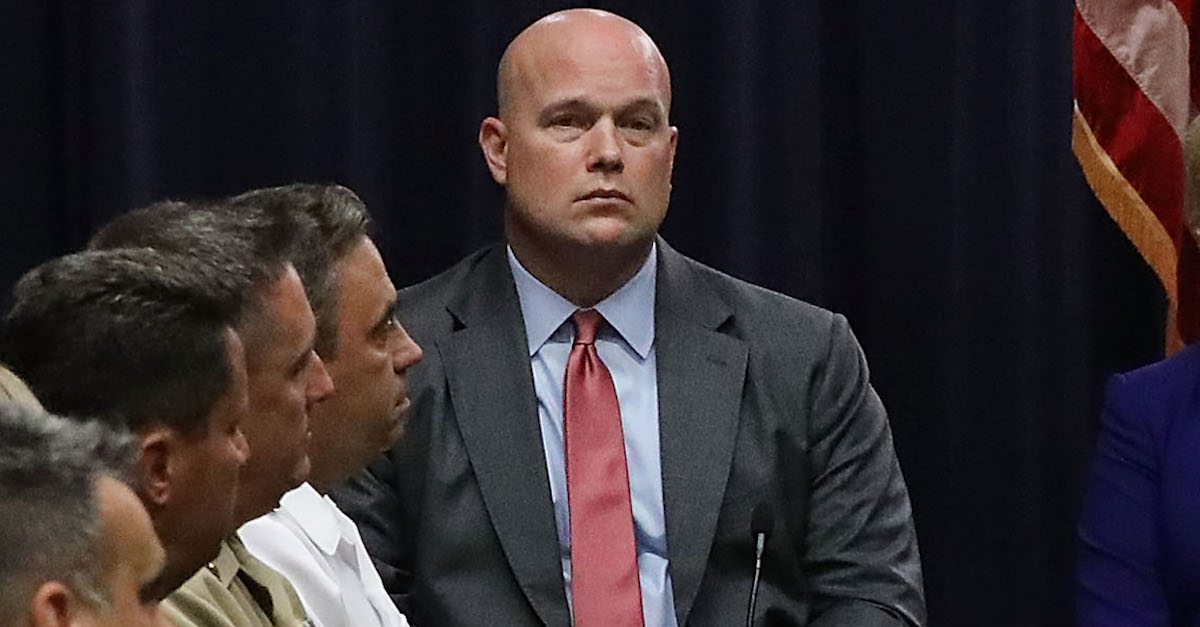 Inquiring minds want to know what acting Attorney General Matthew Whitaker (or the Department of Justice) is hiding when it comes to his financial disclosure form.
American Oversight, a non-partisan, nonprofit ethics watchdog that calls itself the "top Freedom of Information Act litigator investigating the Trump administration," sent a letter on Friday to Office of Government Ethics "regarding DOJ's failure to share acting Attorney General Whitaker financial disclosures with the public."
The letter expressed concern that the DOJ "is not making available to the public in a timely fashion any public financial disclosure reports filed by Matthew Whitaker."
They blasted this letter out on Twitter and said, "Appointees have 30 days to file their financial disclosures once assuming the position. Whitaker has been working at DOJ since October 2017 and there's no way to tell if he has financial conflicts."
The group went on to say that Whitaker, who was appointed as former Attorney General Jeff Sessions chief of staff, would have been required to file a public financial disclosure form months ago.
"Matthew Whitaker was reportedly appointed Chief of Staff to Attorney General Jeff Sessions on October 4, 2017. As a non-career Senior Executive Service appointee at the Department of Justice, Mr. Whitaker is a required public filer. Consequently, the latest possible deadline for him to file the required public financial disclosure, assuming he received two extensions for good cause shown, was February 1, 2018," the letter said. "As an incumbent of more than 60 days in a covered position, Mr. Whitaker was also required to file an additional annual public financial disclosure report by May 15, 2018, again with two possible 45-day extensions, so at most no later than August 13, 2018."
Attorney and former director of the United States Office of Government Ethics Walter Shaub led the charge on Twitter, saying that "This is an outrage."
"DOJ's refusing to release Whitaker's financial disclosure form is illegal, unheard of and highly suspicious. What is DOJ hiding?" Shaub asked. "Bear in mind that DOJ is legally required to release these reports no later than 30 days after their filing — whether or not DOJ has finished reviewing them."
"This means either Whitaker failed to file (illegal) or DOJ is determined to hide them from you (illegal)," he claimed.
Former acting Solicitor General Neal Katyal simply said, "Seems sketch."
Weekly Standard editor at large Bill Kristol jumped in to say, "Here's information on OGE Form 278e, the financial disclosure form senior U.S. government officials fill out, and which is then publicly available. Senior officials, political and career, comply with this law, as they are obliged to. But not Matt Whitaker?"
Aside from his comments about special counsel Robert Mueller's Russia investigation, Whitaker's finances have drawn scrutiny, given his past association with World Patent Marketing, an alleged "scam" firm he worked for in an advisory role. Meanwhile, others continue to debate whether or not his appointment as acting AG was legal.
[Image via Chip Somodevilla/Getty Images]
Have a tip we should know? [email protected]