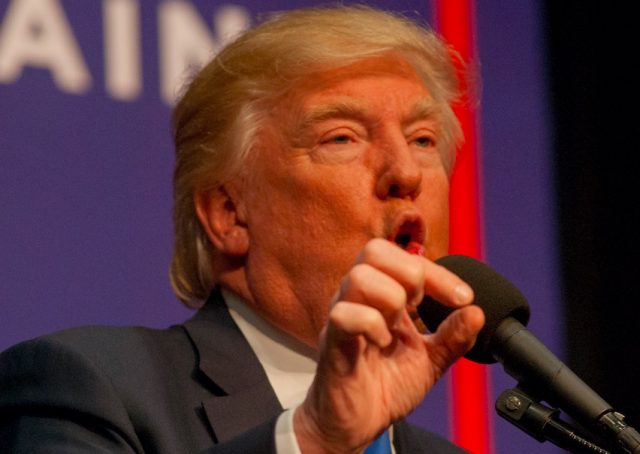 On Wednesday night, President Trump published his "Highly-Anticipated 2017 Fake News Awards," and we at Law & Crime couldn't help but notice that there were a few items of typically Trump-declared "fake news" that somehow didn't make the cut.
#1 The Stormy Daniels story.
Over the last week, it has been widely reported that porn star Stormy Daniels discussed having had an affair with Donald Trump back in 2006. The surrounding details range from the salacious to the bizarre, including Trump's lawyer Michael Cohen allegedly having paid Daniels $130,000 in hush money, and Trump's having complimented Daniels for reminding him of his daughter, Ivanka. We'd have expected Trump to exercise a sort of last-in-first-out approach with this story, but he failed to even mention it on his "fake news" list, despite having publicly declared it a lie.
Why was it left off the list?
Our guess is that Trump's lawyers insisted on it. Although Stormy Daniels a/k/a Stephanie Clifford hasn't made any allegations of sexual misconduct, she's a bit of a wild card. She has come forward now, well after the election, and after the primary wave of women accusing Trump of sexual assault. It's anyone's guess what she'll say next. If Trump were to formally declare Daniels' story "fake," it might very well antagonize a defamation lawsuit. Such a claim would mirror other litigation Trump is currently defending; Daniels could potentially claim that Trump's calling her a liar was defamatory, just as others have. Daniels, an adult film star, might even have an advantage in a libel lawsuit, too; because her career centers around sex, any false statements relating to her sexual history could easily be tied to her having suffered financial damages.   In lots of defamation lawsuits, damages are tough to prove, but not so for Stormy.
Trump's legal team (and assuming he is capable of rational thinking, Trump himself) knows that they don't need another legal headache right now. They're likely hoping that America simply discredits Daniels' story on the general basis that "porn stars can't be trusted," and have filed this story under, "don't poke the bear."
#2 The Summer Zervos story.
Summer Zervos is the former Apprentice contestant who is already suing Donald Trump for defamation. She has alleged that at what was meant to be a professional dinner, Donald Trump pressured her, groped her, and kissed her against her will. Her story has appeared in multiple media outlets in 2017 as the litigation makes its way through court in New York.
Why was it left off the list?
Trump's lawyers know that mentioning Zervos could damage their position in ongoing litigation with her.  In response to Zervos' allegations, Trump has repeatedly said that Zervos was lying – and those statements are the ones about which Zervos is now suing. Zervos has something of an uphill battle with this claim. The strength of her defamation case rests on the strength of the evidence that the sexual assault she described actually place. As is the case with most sexual assaults, there isn't likely to be any physical corroborative evidence. Zervos did not contact the police following the incident, and she has no video or audio recording of the event. Her case isn't a sure loser, but it's not a definite winner either – and Trump's lawyers know that.  They're not about to throw away the solid footing they know they have here.
One argument advanced by the Trump team at a hearing in the case is that the statements Trump made about Zervos were all "political statements," that had been made in the context of a "heated political campaign to convince the public to vote for Mr. Trump," and constituted, "non-actionable rhetoric and hyperbole that is protected by the First Amendment." That's an argument that would be severely damaged if Trump re-published his comments about Zervos via his "fake news" list. The campaign is over, so this isn't election-speak; if anything, statements he makes now as president would be even more damaging to anyone he defames.
#3 The New York Times and the many, many women who have accused Trump of sexual assault.
Trump has long taken aim at the New York Times, and had even promised to sue the Times for publishing the sexual assault allegations several women made against him, as well as suing the women themselves for defamation.  Of course, Trump hasn't actually followed through with any of these threats, probably because, as I've analyzed before, such lawsuits would be patently ridiculous. Still, if he's listing things like overfeeding Japanese fish as matters of award-winning "fake news," you'd think "tales" of dozens of sexual assaults might have made the cut.
Why was it left off the list?
Trump is protective of his ego above all else, and he knows bringing this up would just go to make him look weak. In addition, it could further bolster any claims these women have against the President for defamation. When the original New York Times' article first appeared in 2016, Trump promised to file a defamation suit.  We'll all remember that he didn't follow through on his threats. But since David McCraw, counsel for The New York Times explained it so eloquently in his response to Trump's legal threats, I'll use his words:
"The essence of a libel claim, of course, is the protection of one's reputation. Mr. Trump has bragged about his non-consensual touching of women. He has bragged about intruding on beauty pageant contestants in their dressing room. He has acquiesced to a radio host's request to discuss Mr. Trump's own daughter as a "piece of ass."

"Nothing in our article has had the slightest effect on the reputation that Mr. Trump, through his own words and actions, has already created for himself."
In the end, I guess, it's not all that surprising these "stories" were left off his list of fake news. Was it because his lawyers told him not to? Maybe. Was it because he was fearful of further litigation? Maybe. Or perhaps it was because they aren't actually "fake news"?
Have a tip we should know? [email protected]
Elura Nanos - Columnist & Trial Analyst, Law & Crime; CEO Lawyer Up